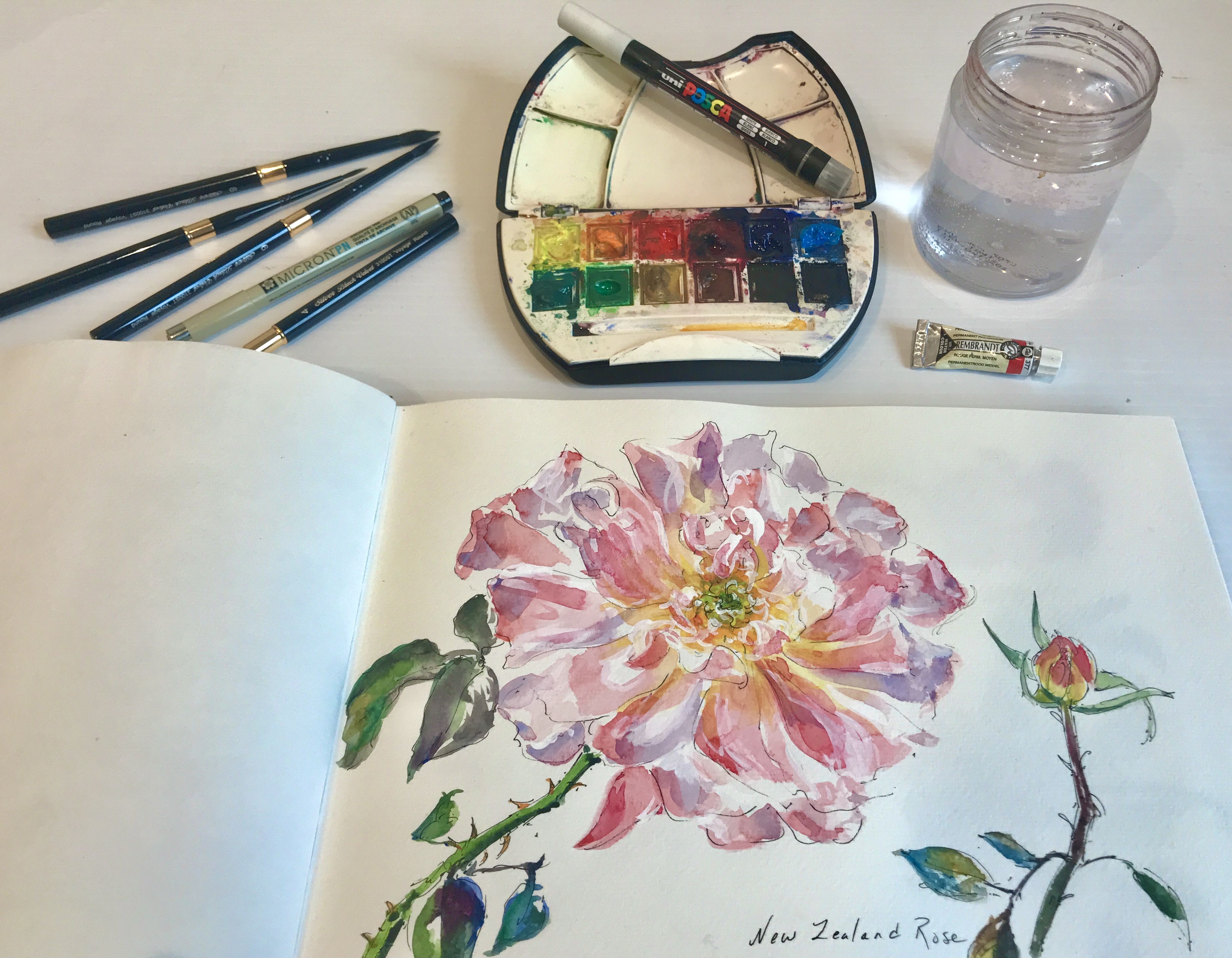 My Portable Watercolor Sketch Kit. These art supplies can fit in a purse or small drawer in your kitchen
12- pan or similar watercolor set.
1 Round watercolor brush
1 white acrylic pen 
Permanent black ink pen such as a Micron size .45
Quality watercolor pad, block or journal size 5"x 8" or larger
Plastic water cup (I use an empty vitamin bottle)
Bottle of water + a few paper towels
All of these items can fit into a Ziplock bag, cross body carry bag or tote bag for easy portability or storage
Why Watercolor Sketching?
Have you ever dreamed of traveling and recording beautiful scenes in your very own journal? Watercolor sketching is the perfect medium for established artists who want to improve their drawing, composition and observation skills and equally perfect for complete beginners who've never picked up a paint brush. Ideal for "kitchen table painters" who want to build skills and take them on the road. This is all about painting as a way to keenly observe and experience a place in time.
The session includes a set of 7 pre-recorded paint along video lessons including an introduction to materials and color mixing. Each lesson includes a paint along video + drawings, notes and reference photos. I've also included a bonus video on traveling with paint kits..
I'll demonstrate how to compose and sketch using a permanent ink pen as well as how to mix beautiful colors and paint with watercolors.
Designed to be more of an experience as the focus is about painting for oneself rather than painting for others.
The focus will be on "seeing the world differently", and learning how to view everyday objects as having the potential to be composed into a beautiful watercolor sketch.
I'll show you step by step how to draw and paint in a way that anyone can learn. You'll want to make watercolor sketching a part of your everyday life.
With a small, professional artist quality watercolor kit, you can sketch in your own home as well as when you travel.
I believe that anybody with the desire can learn to sketch with this method.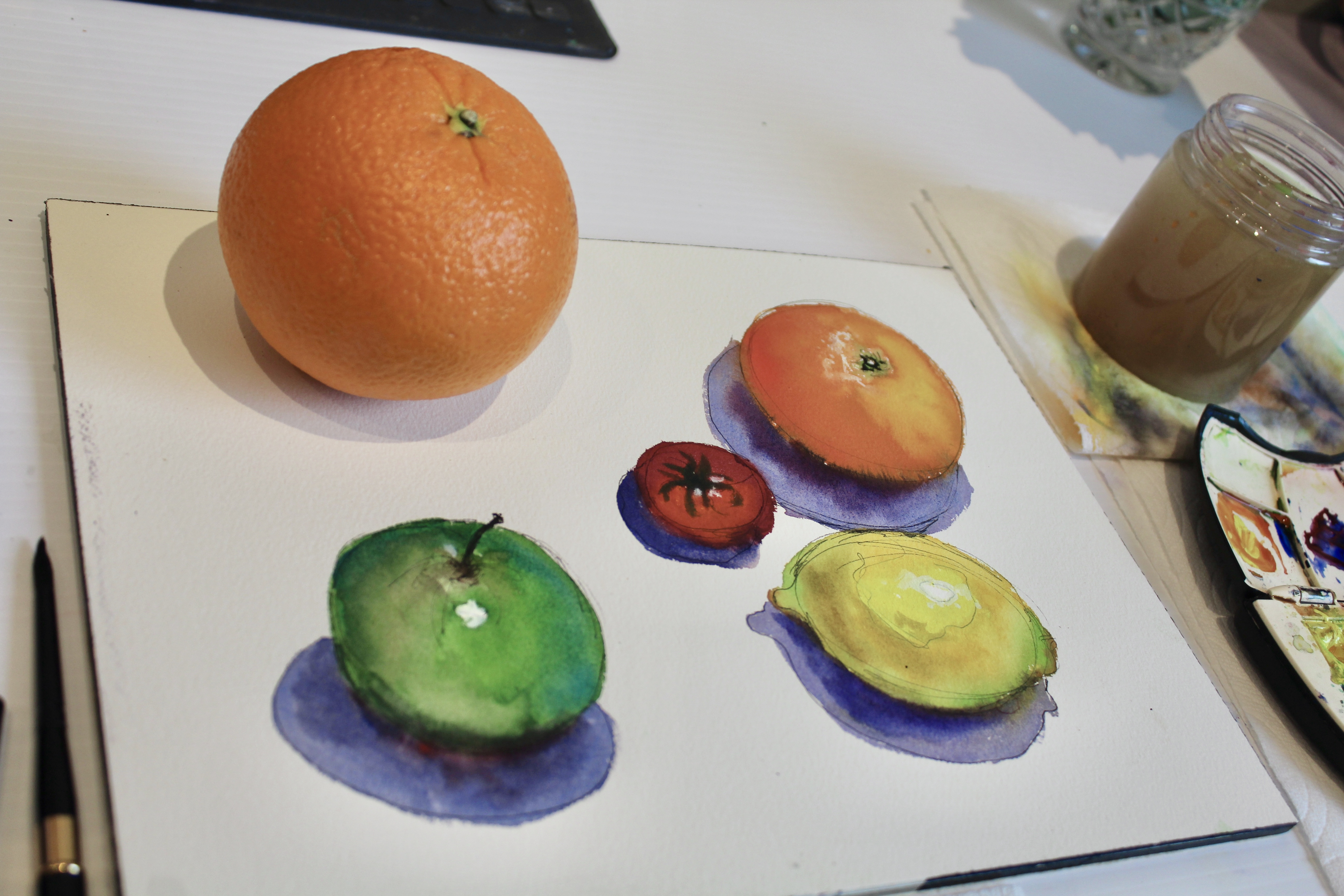 I'll demonstrate
color mixing
by painting fruit:)
I will introduce you to all of the materials used in this course as well as to color mixing by painting individual fruits and an onion:) Afterwards I'll show you how to make your own color wheel on the same page.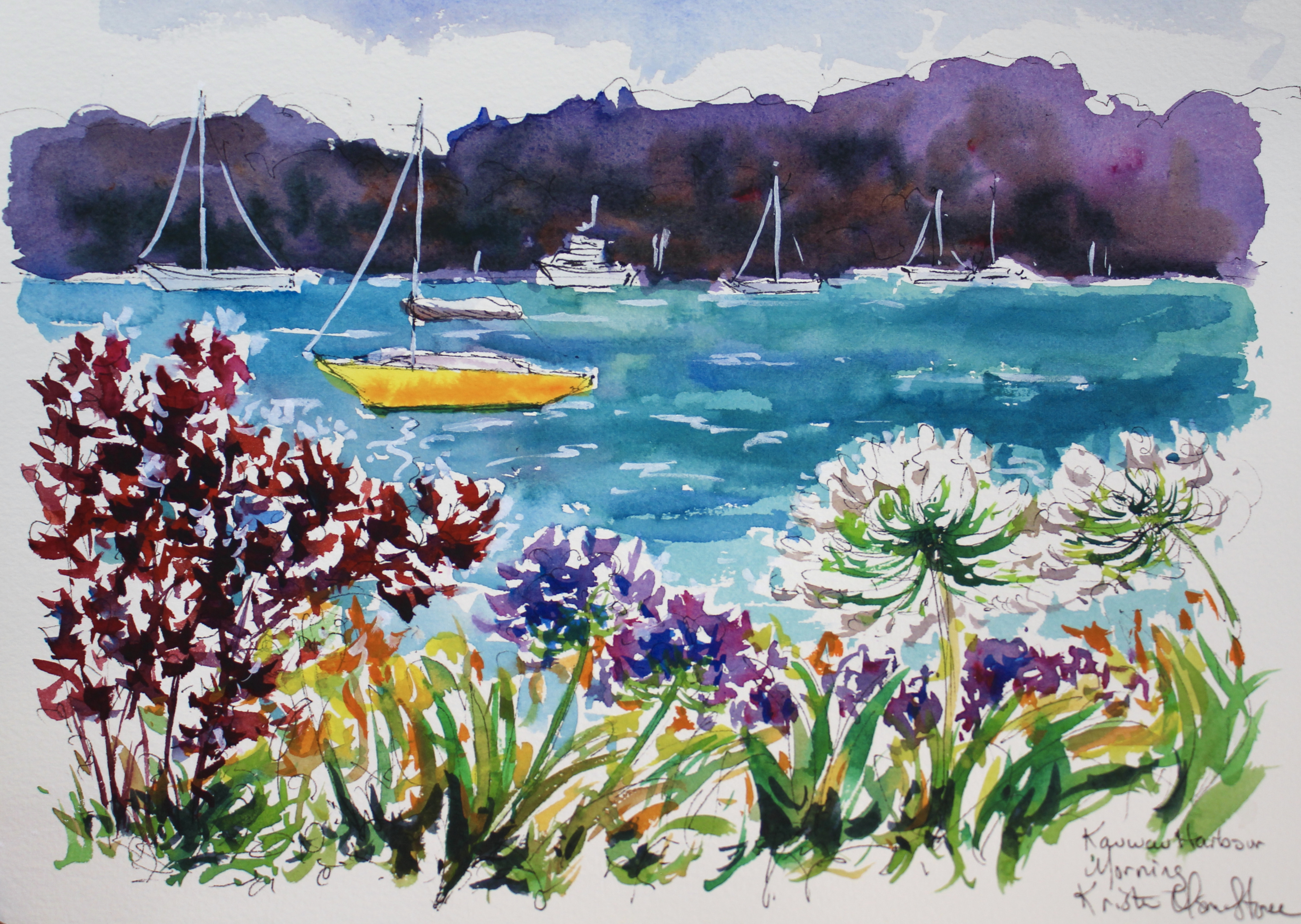 Learn to paint seascapes and landscapes
I'll demonstrate and explain how to see the world in a new way. I'll help you understand how to design and simplify photos so that you can paint interesting, colorful, fun paintings.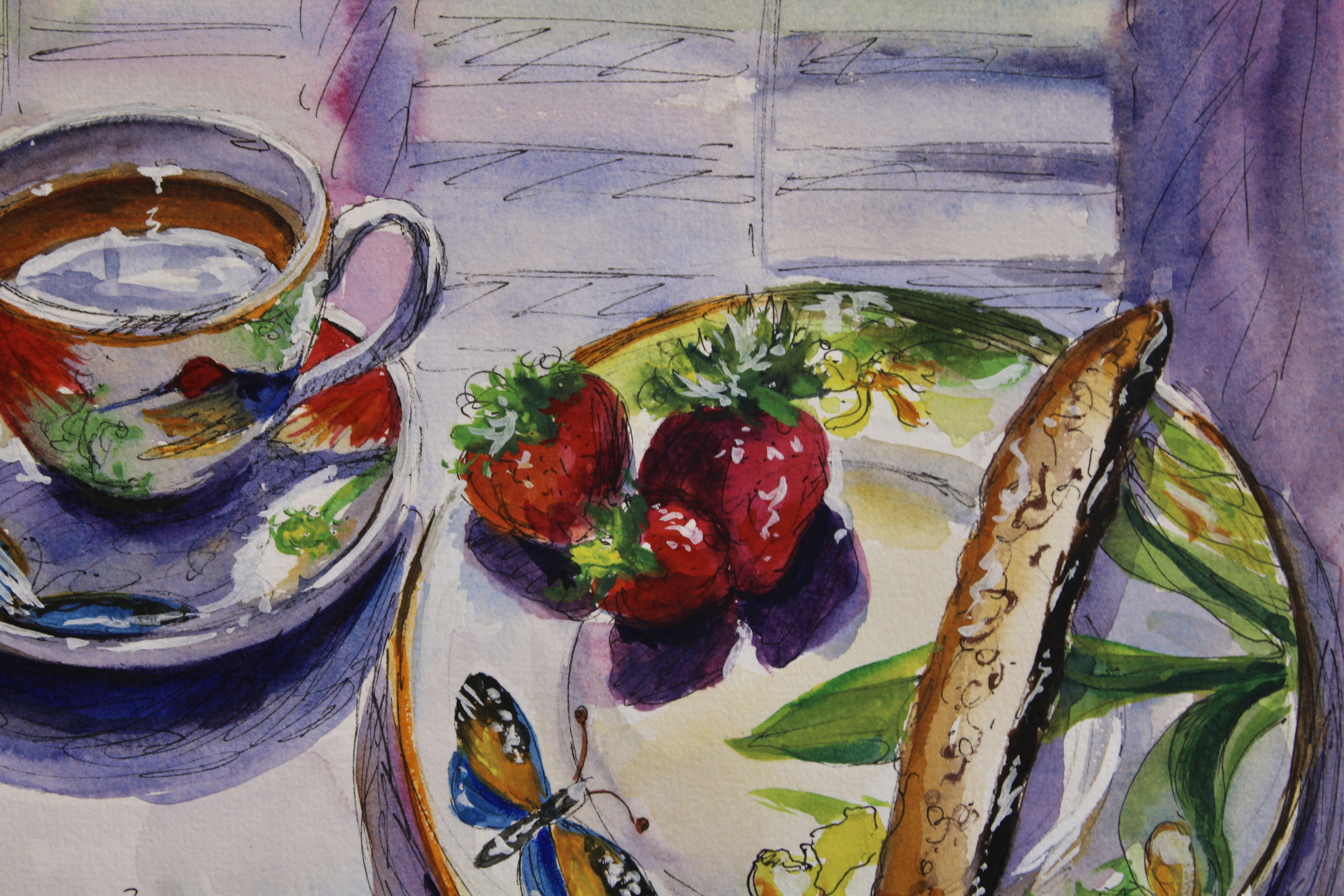 I demonstrate how to draw and paint on a watercolor journal or watercolor block
During the entire video my palette is visible so you can see my color mixing in real time.
What students say
Not too long ago I moved from NH to CA. Took 6 months to get my house organized and bingo we were under "house arrest" for the virus and I hadn't painted in almost a year and lost my creativity. I looked on "'Bold Brush" and found a class listed as "paint the California desert" I liked the painting that advertised the class and when I spoke to Kristen I knew it was a go. I'm a moderately experienced painter and loved watching Kristen demonstrate and talk about what she was doing. I understood what she was saying and learned about round brushes and how to use them. I love to watch Kristen's brush work. It makes me want to paint. Not only that, she has a sense of humor, is refreshing easy to talk to, and loves to teach.
Beverly
I have been following Kristen's fun video lessons one after another on teachable for a while. With her teaching I learned how to mix vibrant impressionistic colors and brushstrokes. Paint along with her is always fun and enjoyable. 
Jiann 
Preview the supply lists and view the course curriculum


You'll develop skills to help you sketch and paint anything anywhere!
I am thrilled and excited that you are considering joining me, we will be working on developing your skills to help you feel more confidant in your ability to sketch and paint anything anywhere!
As an instructor, my goal is to help you become a better artist with your own style. Through paint along video demonstrations, exercises in mastering color and composition suggestions, you'll grow as an artist. You'll want to take your watercolor sketch kit with you wherever you go!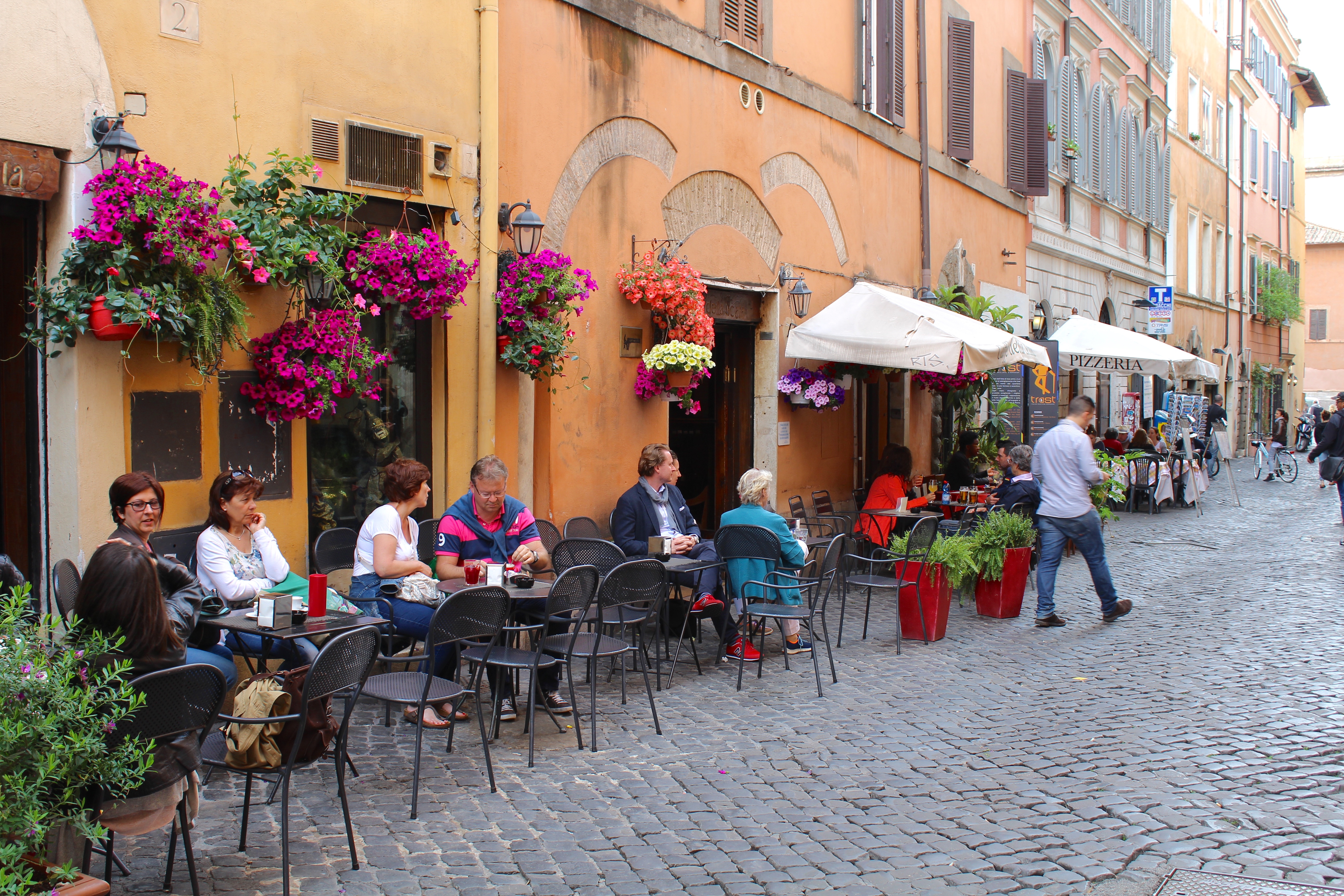 Additional Painting Courses