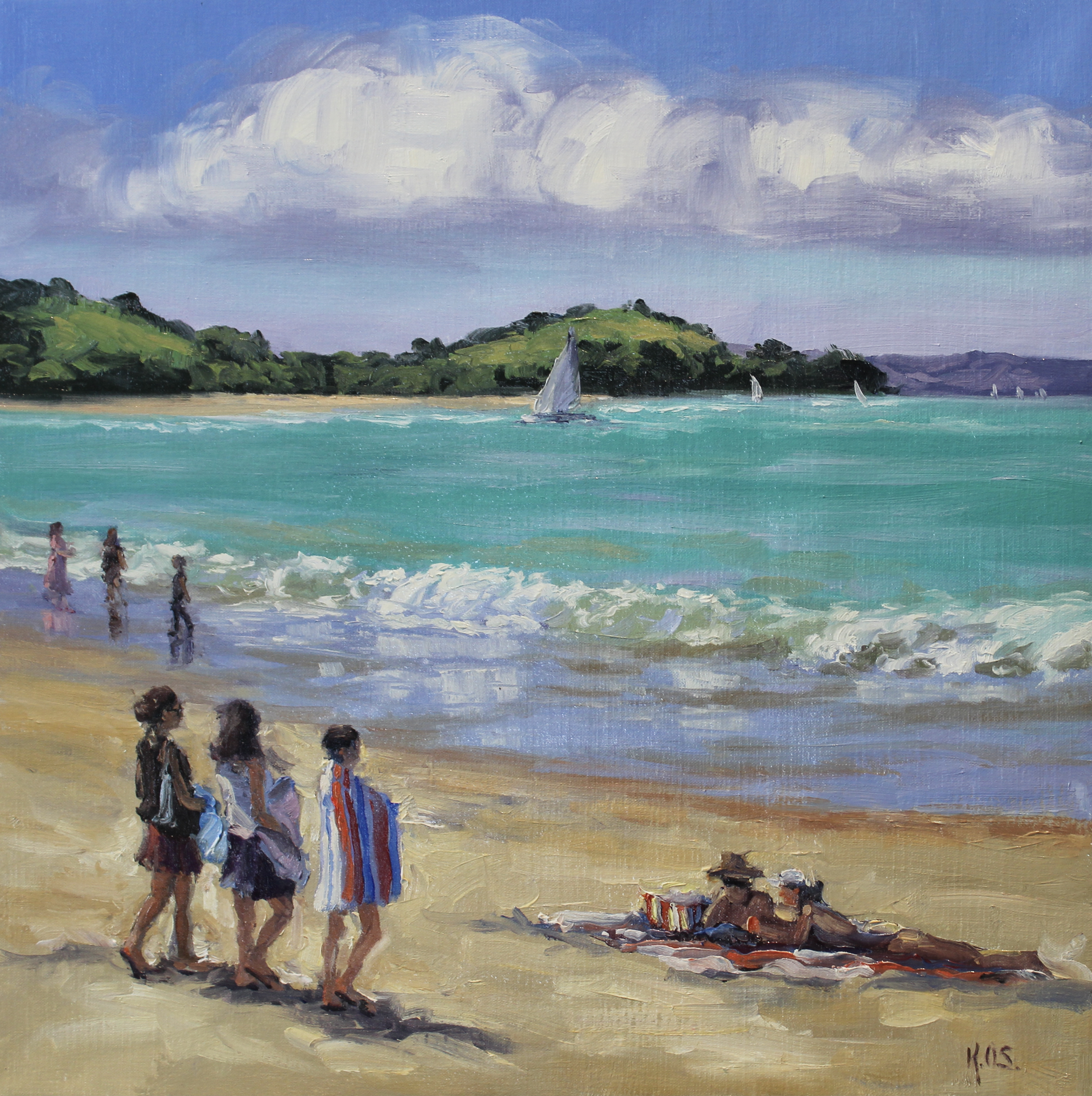 Learn how to paint people on the beach
This is the most challenging subject and one of my most requested. I'll demonstrate how to edit photos and incorporate figures into a beach scene as well as sailboats, waves with reflections and a distant coastline with island clouds.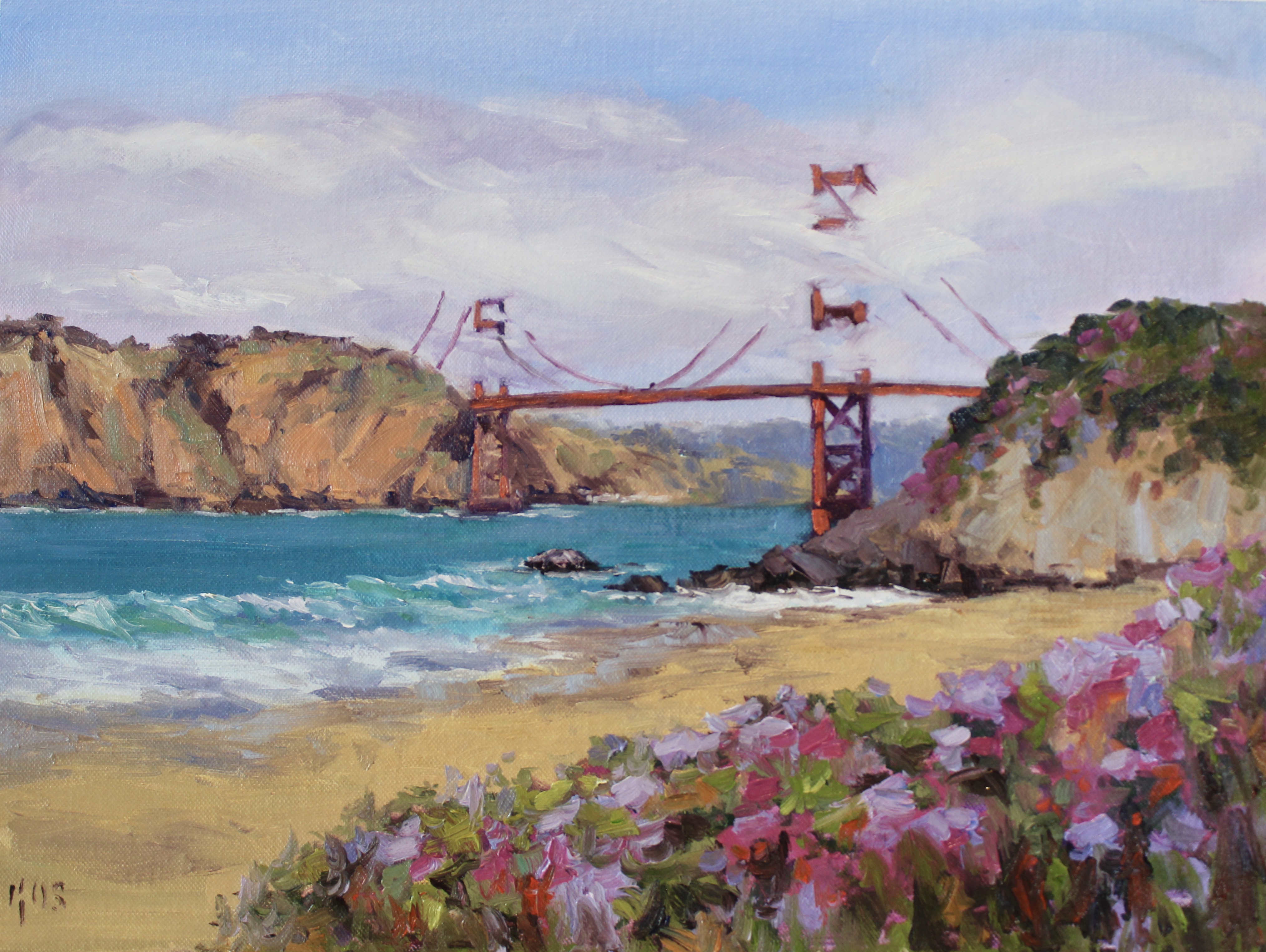 Paint The Golden Gate Bridge and wildflowers
This is an iconic and beloved bridge as seen from Baker Beach in San Francisco. I'll show you how to paint colorful wildflowers in the foreground and the bridge with drifting fog, the ocean and the Marin Headlands.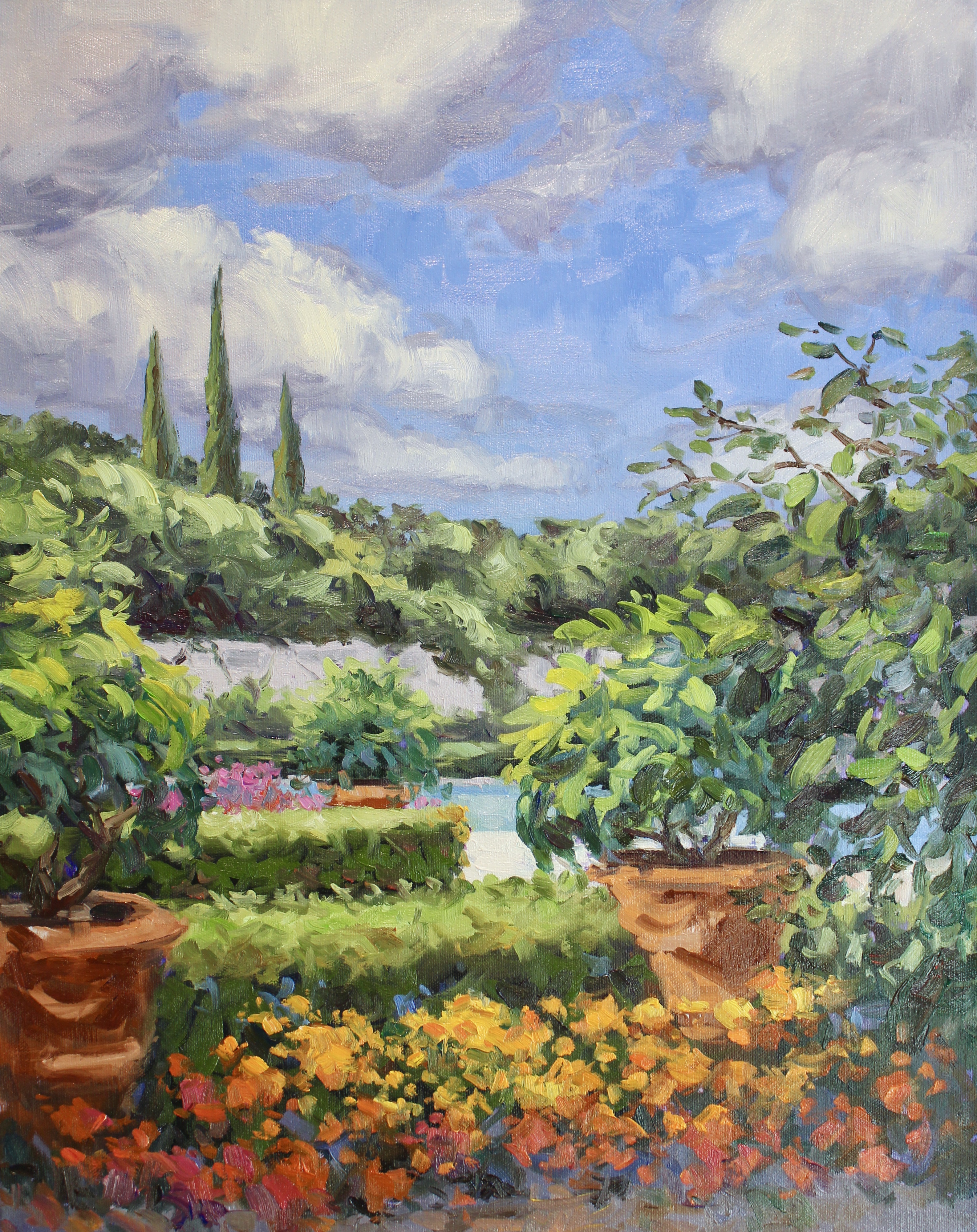 Paint an impressionist style Italian Garden
Paint potted citrus trees and use bands of color to create depth along with exciting brushwork. I'll demonstrate how to paint tall, Italian cypress trees reaching up into the beautiful cloud filled blue sky. You'll also learn how to paint flowers that are both in sun and shadow.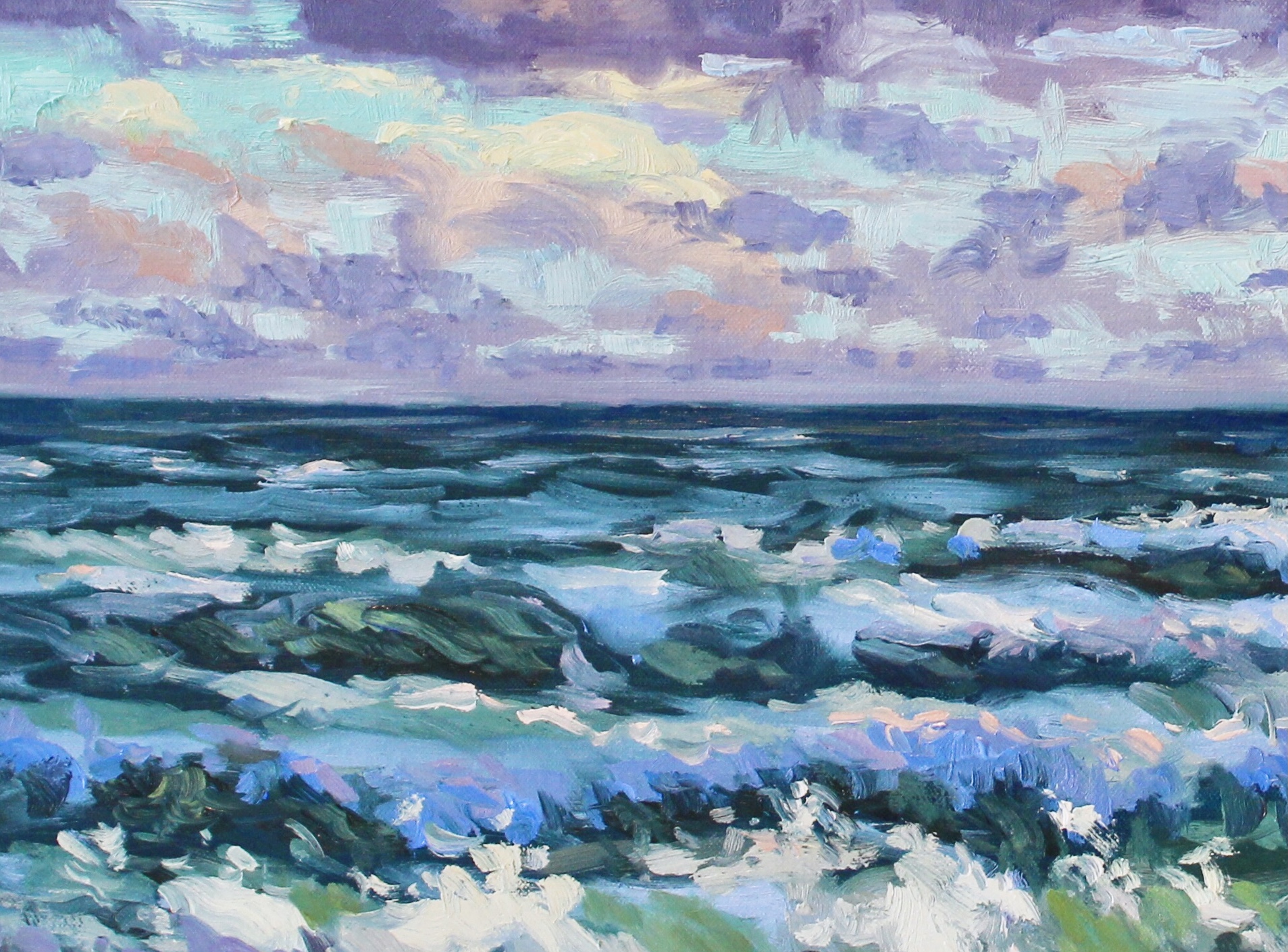 Paint an evening sky and capture rolling surf in Kailua, Hawaii
I'll cover how to use a limited palette to achieve the delicate color scheme and bold brushwork of the evening sky and ocean in Kailua on the windward side of Hawaii.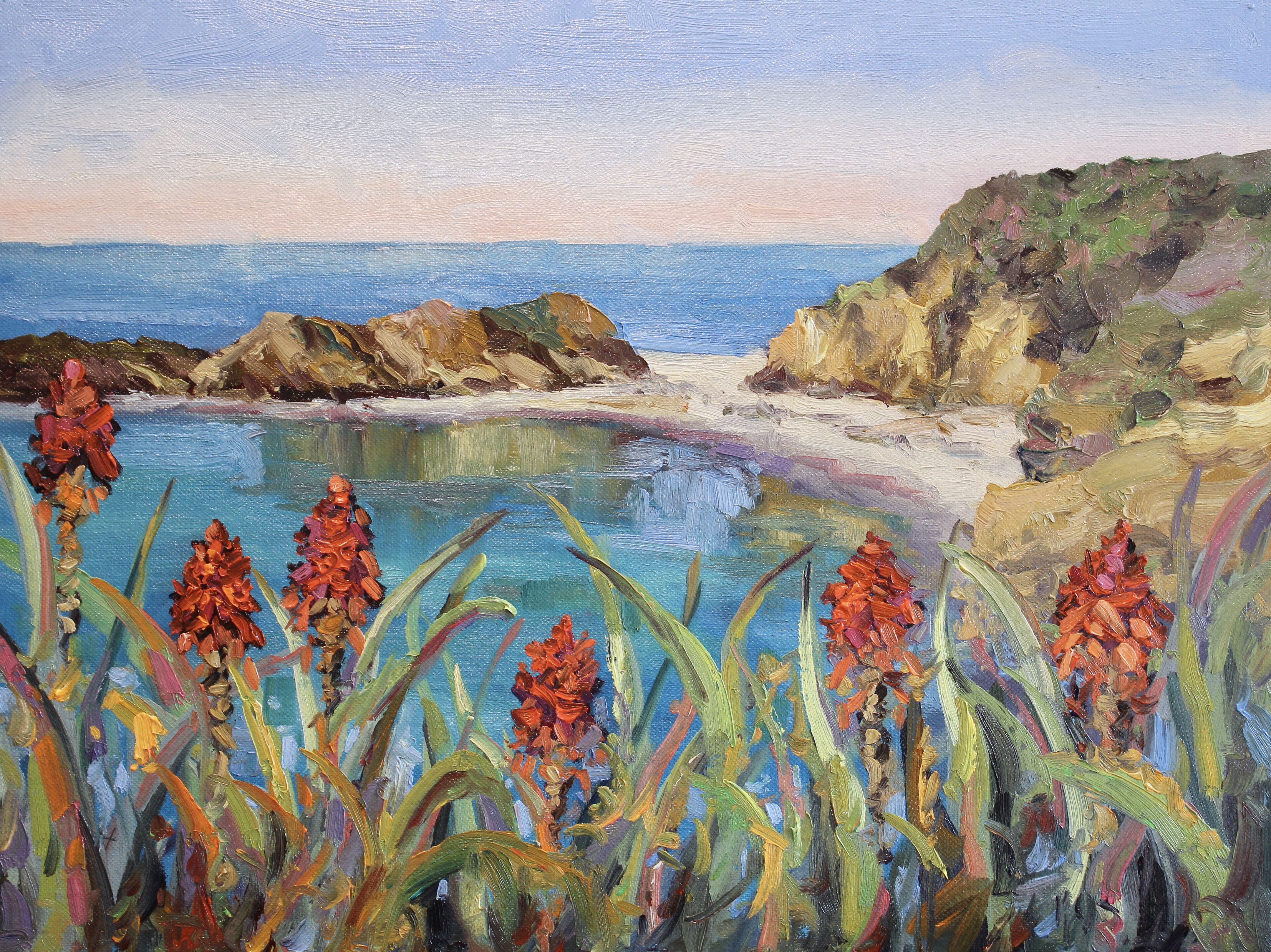 Paint aloe vera blossoms and Goff Cove from Laguna Beach in California
I'll explain in detail how to balance the vibrant colors of the aloe blossoms to create an exciting and eye catching foreground, all balanced by the soft blues and grays in the distance.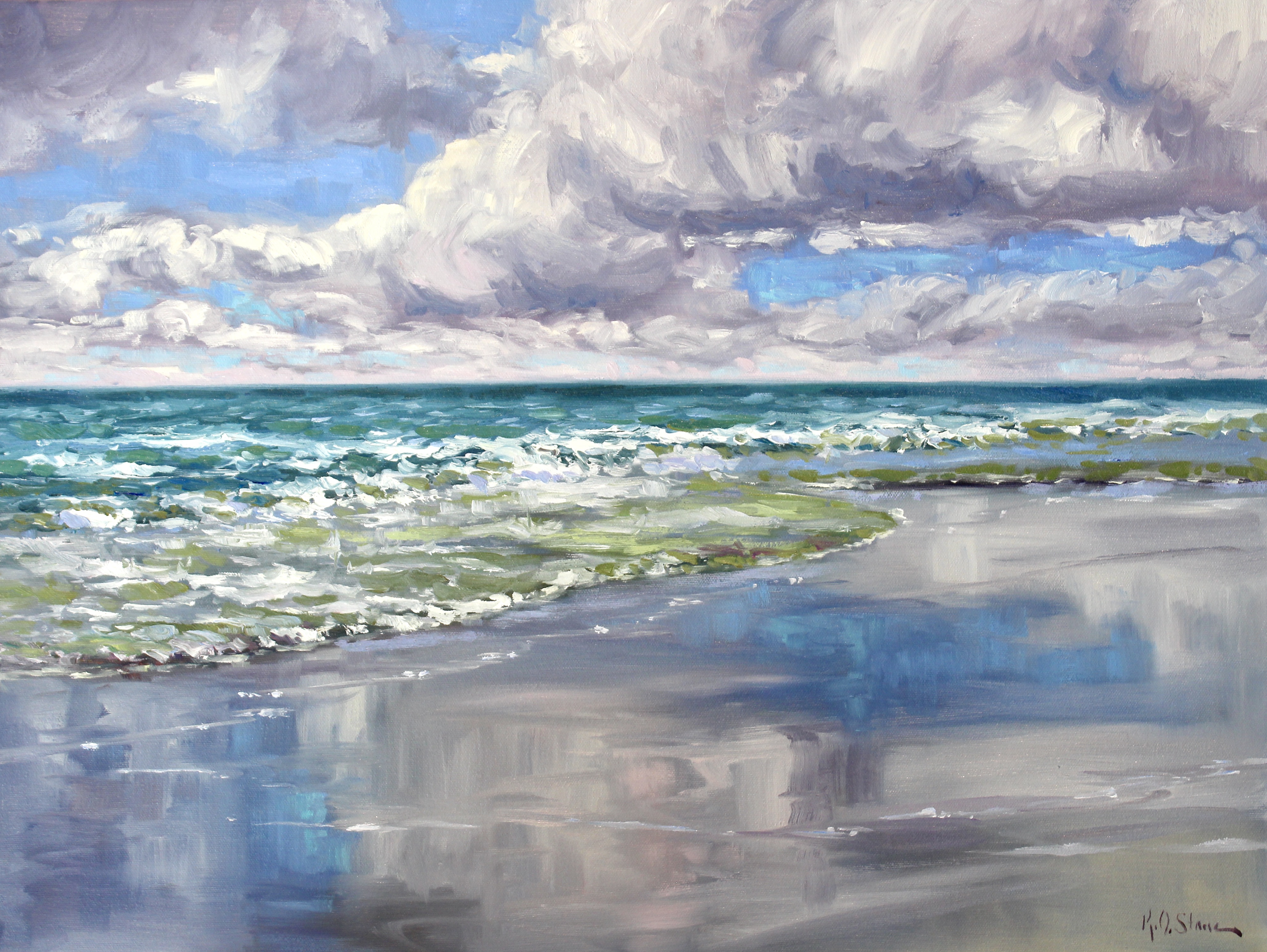 Clouds and reflections on wet sand
Learn to paint luminous reflections of blue sky and coastal clouds in this simple and beautiful seascape. I'll explain how to create depth with atmospheric perspective, a variety of blues and the importance of warm and cool whites.
Take a workshop from the comfort of your home or studio
Welcome to this painting workshop where I'll be showing you how to paint a variety of seascapes and landscapes including clouds and reflections in wet sand, an Italian garden, evening clouds and seascape from Hawaii, Aloe Vera Blossoms in front of a sea cove, how to paint people on the beach and how to paint The Golden Gate Bridge. I've chosen these subjects because I can teach you how to paint a wide range of elements.
In these painting tutorials I show you all that I know about painting through videos, notes, photos and design diagrams, I'll show you techniques and color mixing so you can learn how to paint a collection of artwork that is both impressionistic and realistic.
My palette is visible during the entire video in each lesson. I explain the design behind the compositions, how to mix your colors in order to create a harmonious painting that reads well from foreground to middle ground to background.
I show you my whole process from start to finish. These lessons are suitable for oil or acrylic painters. If you are new to painting, I explain design and color mixing as I work through the paintings.
These video lessons are packed full of useful information that will help you to improve your painting skills and create beautiful works of art.
Highlights
Start and stop to fit your schedule
Once purchased you own the classes for a lifetime
1 personal critique by me for each of the 6 lessons
Learn to paint 6 unique paintings
Reference photos included
Design diagrams included
Drawings included for each painting
Palette notes
My palette is visible during entire video
Learn to mix fresh, clean colors
Create interesting and effective edges
Learn techniques to create loose, expressive yet realistic brushstrokes
Create a sense of depth, 3D effects and atmospheric perspective
"Wow! I just completed the first section out of 6 of Kristen Olson Stone's Master Class Online Painting series. What a steal this master class is. This class is so comprehensive, including details of paint, color mixing, sketching, and painting. I have taken other online painting classes and have paid almost the same price for only one section worth of instruction. If you are a beginner, intermediate or an advanced painter I am sure you will find this series helpful. Thank. you Kristen for providing aspiring painters your gift of teaching and I look forward to the other 5 sections of this series!"........Debbie B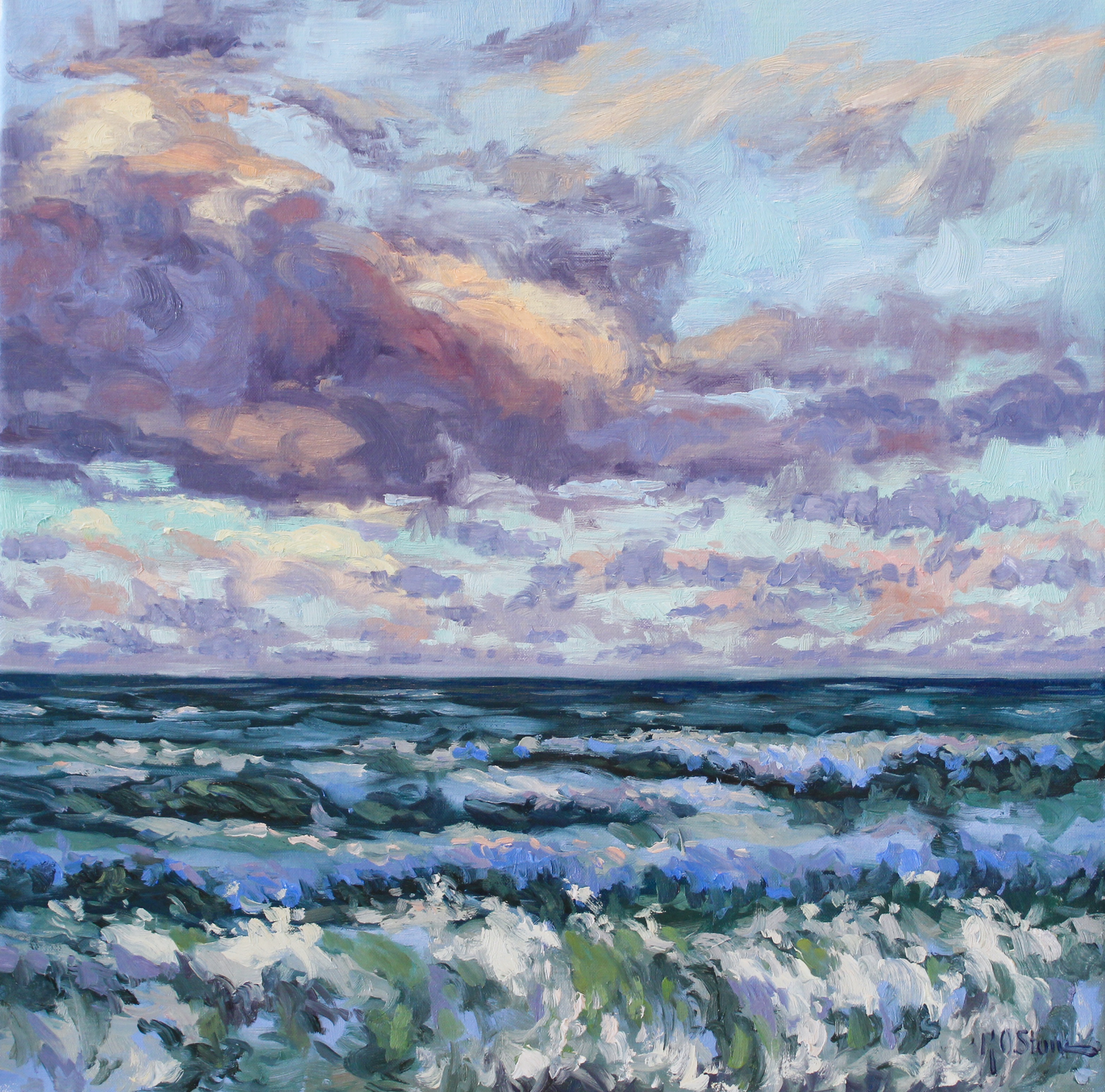 In painting this seascape I found following your tutorial a lot easier as you described the way to hold the brush for the style you were using. I was amazed that by following your tutorial I watched as rocks underwater came alive in my painting and adding sea foam was made easy and simple. This were challenges in the past the prevented me from even contemplating painting seascapes. I loved how you used a slightly different mix of colours as you continued, and you carefully and clearly explained the colours you were blending. This made it a lot easier to follow and achieve a result far greater than I thought I could have done otherwise. The construction lines were a great tool and explaining how they worked during the compositional stage really helped pull the foreground into the focal point. I kept this in mind as I continued the finishing touches and I believe it made a huge difference to my finished painting. My big 'aha' moment was when you were describing shapes and discussing having too many of the same size. I then looked at the positive and negative shapes and saw my work from a completely different perspective. This was a game changer for me. Thank you so much Kristen, this has been a wonderful painting to do, I have learnt so much and look forward to painting many more.
Sophia H
I have been following Kristen's fun video lessons one after another on teachable for a while. With her teaching I learned how to mix vibrant impressionistic colors and brushstrokes. Paint along with her is always fun and enjoyable. 
Jiann 
Here is where you can preview the materials lists and view the list of things included in this course


Available in days

days after you enroll

Paint 6 Separate And Unique Scenes From My World Travels
Not too long ago I moved from NH to CA. Took 6 months to get my house organized and bingo we were under "house arrest" for the virus and I hadn't painted in almost a year and lost my creativity. I looked on "'Bold Brush" and found a class listed as "paint the California desert" I liked the painting that advertised the class and when I spoke to Kristen I knew it was a go. I'm a moderately experienced painter and loved watching Kristen demonstrate and talk about what she was doing. I understood what she was saying and learned about round brushes and how to use them. I love to watch Kristen's brush work. It makes me want to paint. Not only that, she has a sense of humor, is refreshing easy to talk to, and loves to teach.
Beverly