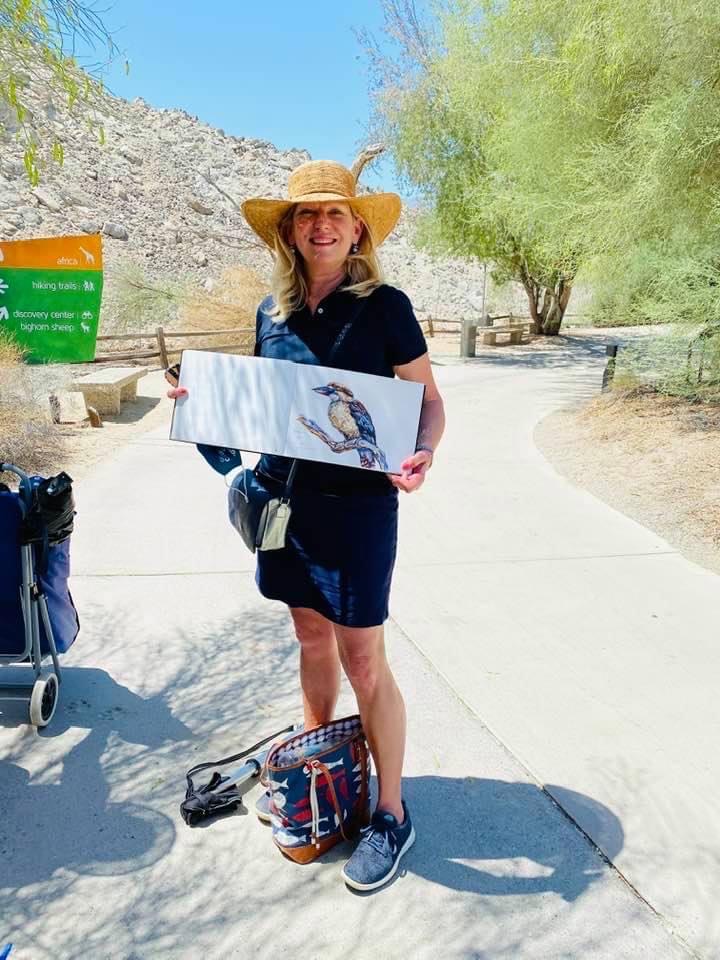 Painting watercolors on location is great fun! It allows you to immerse yourself in your environment and really get the chance to observe your subject whether it is wild birds like this Kookoburra named Tarzana. You can paint in sketchbooks or on watercolor blocks. 
I'll demonstrate, step by step, a relaxed, easy-to-learn method of sketching followed by color mixing and brush techniques. 
This class will help turn anyone into an enthusiastic watercolorist with no experience needed at all. 
The supplies are small and lightweight making it the perfect medium for anyone to carry with them. All of my painting supplies into a small crossbody bag or tote bag.

About The Class
Classes are held at The Living Desert Zoo And Botanical Garden in Palm Desert, California
There is so much to paint at this park, each week we will explore different sections of the park together.
Class is from 10:00am - 1:00pm
On the first day we will meet just inside the gate at the welcome sign. For the following weeks, I'll email our meeting location within the park to each of you.
I recommend bringing your own supplies.
Pack a lunch and take a break whenever you feel like it.
I'll begin the class with a morning demonstration, then for the rest of the class you will sketch and paint with my help.
I'll go from person to person offering guidance at your individual level.
What students say.....
Kristen is not only a fabulous painter, but a very a highly skilled instructor. I have taken several watercolor courses from her and always am blown away by how much I didn't know!! Her instruction has really impacted my work. She answers questions well and is very motivated to help students at all levels of experience. I appreciate her kindness and vast level of knowledge. Highly recommended!

Jana

"I attended Kristen's watercolor class. Kristen gave a very informative demonstration which included drawing, painting, as well as organizational and material information. This made my grasp of some of the beginning techniques easier to learn.

Kristen spent an extensive amount of time with each student individually, giving support and direction just for you. The day was extremely rewarding. I would recommend anyone with any interest to attend any class of Kristen's. Thank you, Rudy"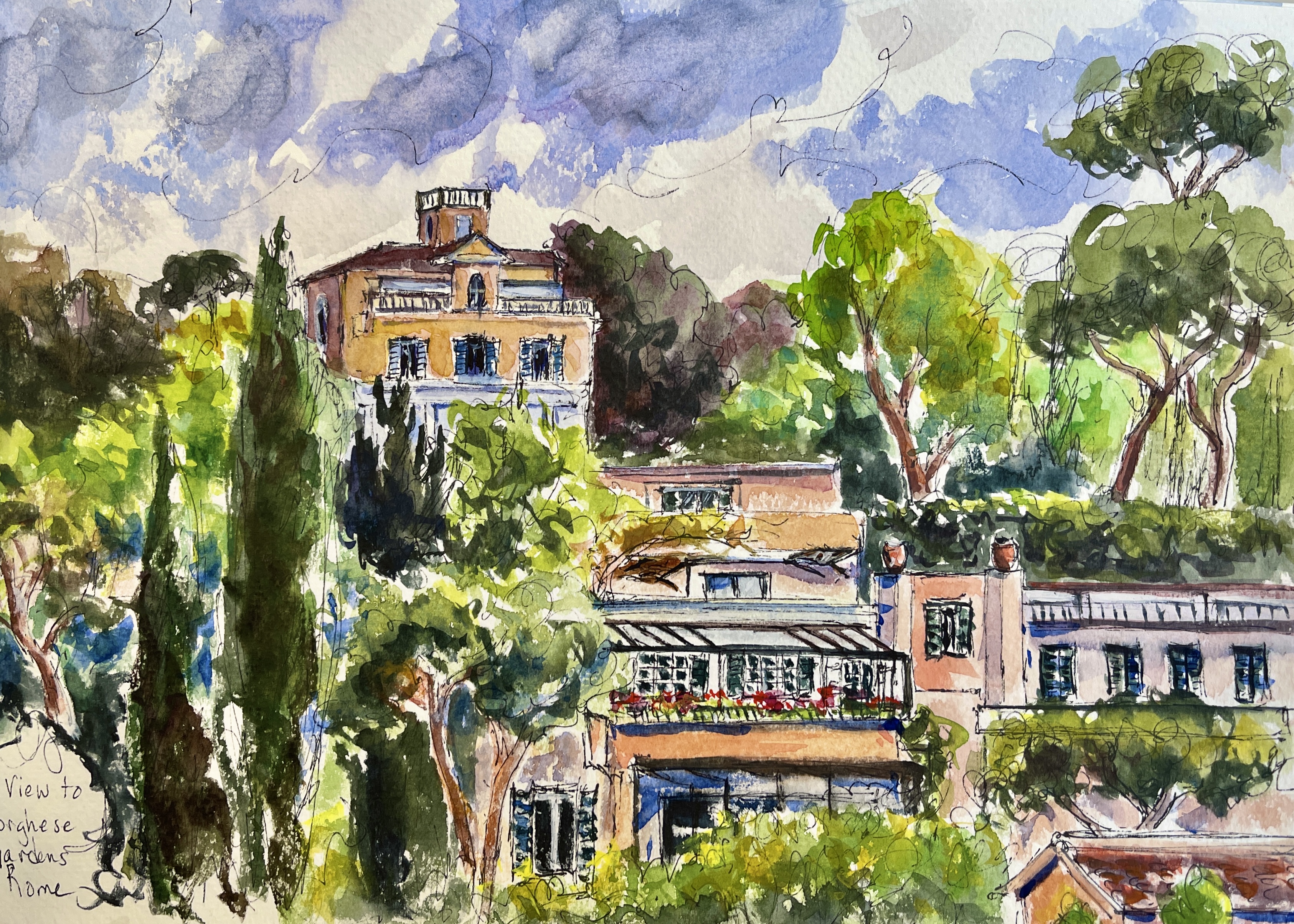 I take my watercolors with me on every trip! This is a view from the rooftop garden of our hotel in Rome looking out to the historical Villas surrounded by centuries old Italian cypress trees.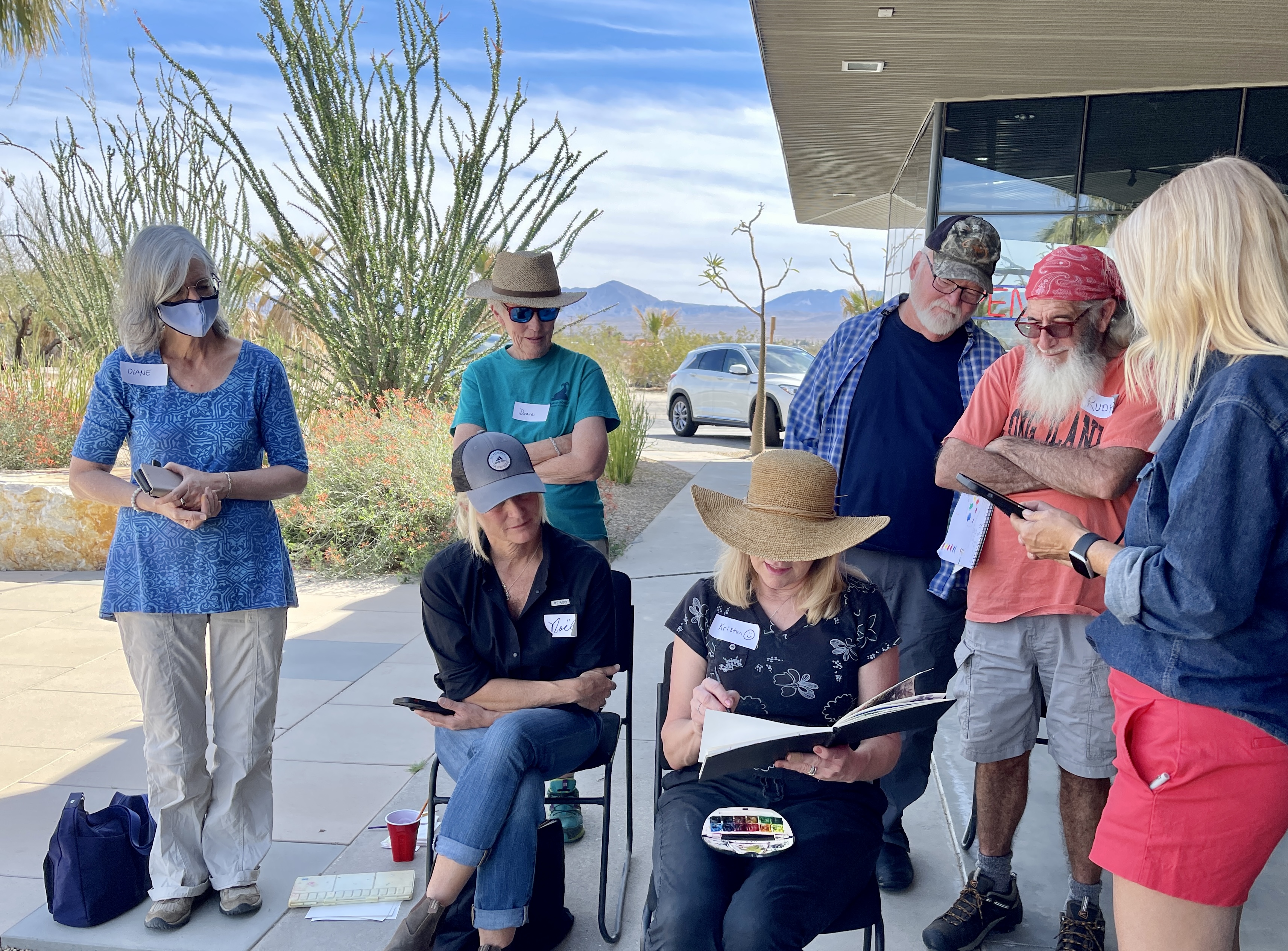 Teaching watercolor painting is an absolute joy

I teach a complete set of skills that you can apply to any subject you decide to paint. You can take these skills and your supplies with you allowing you to paint anything you want anywhere you may be.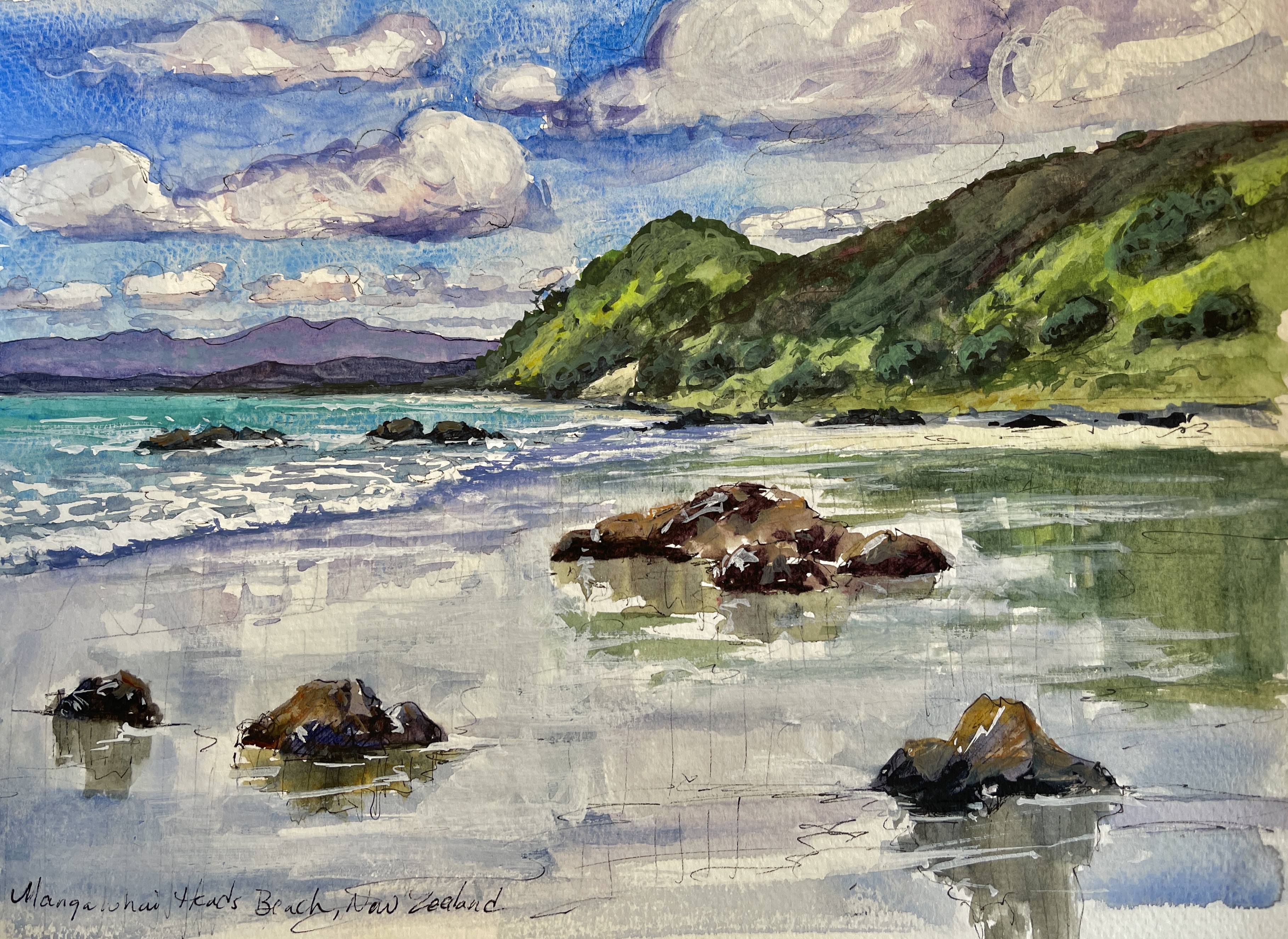 Mangawhai Heads Beach, New Zealand
Mangawhai is a place that is near and dear to my heart. The beach is spectacular with wide swaths of wet sand ideal for capturing reflections of the sky.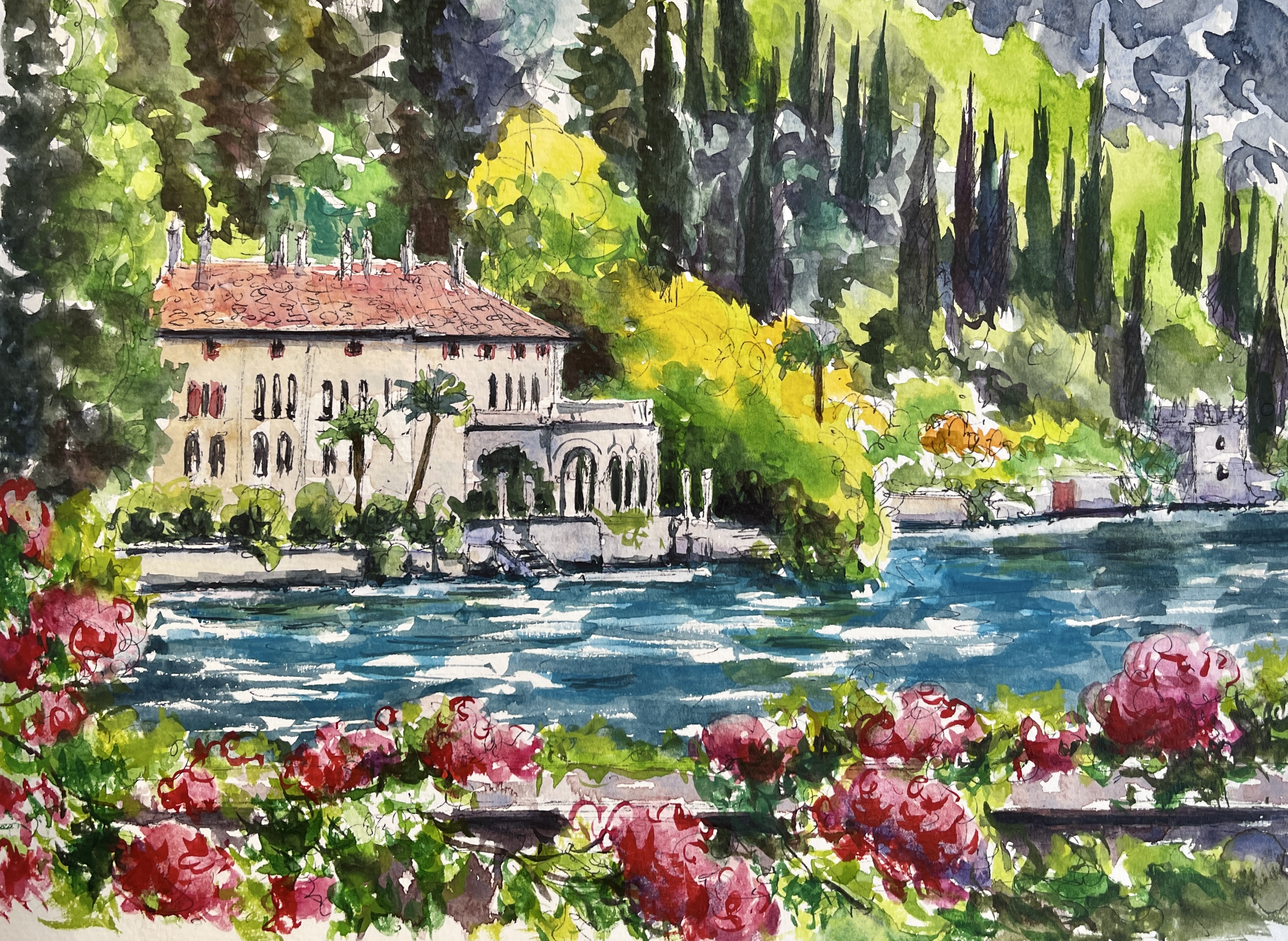 I'll show you how to design, draw and paint a colorful foreground of flowers and how to integrate it with whatever you are painting in the background.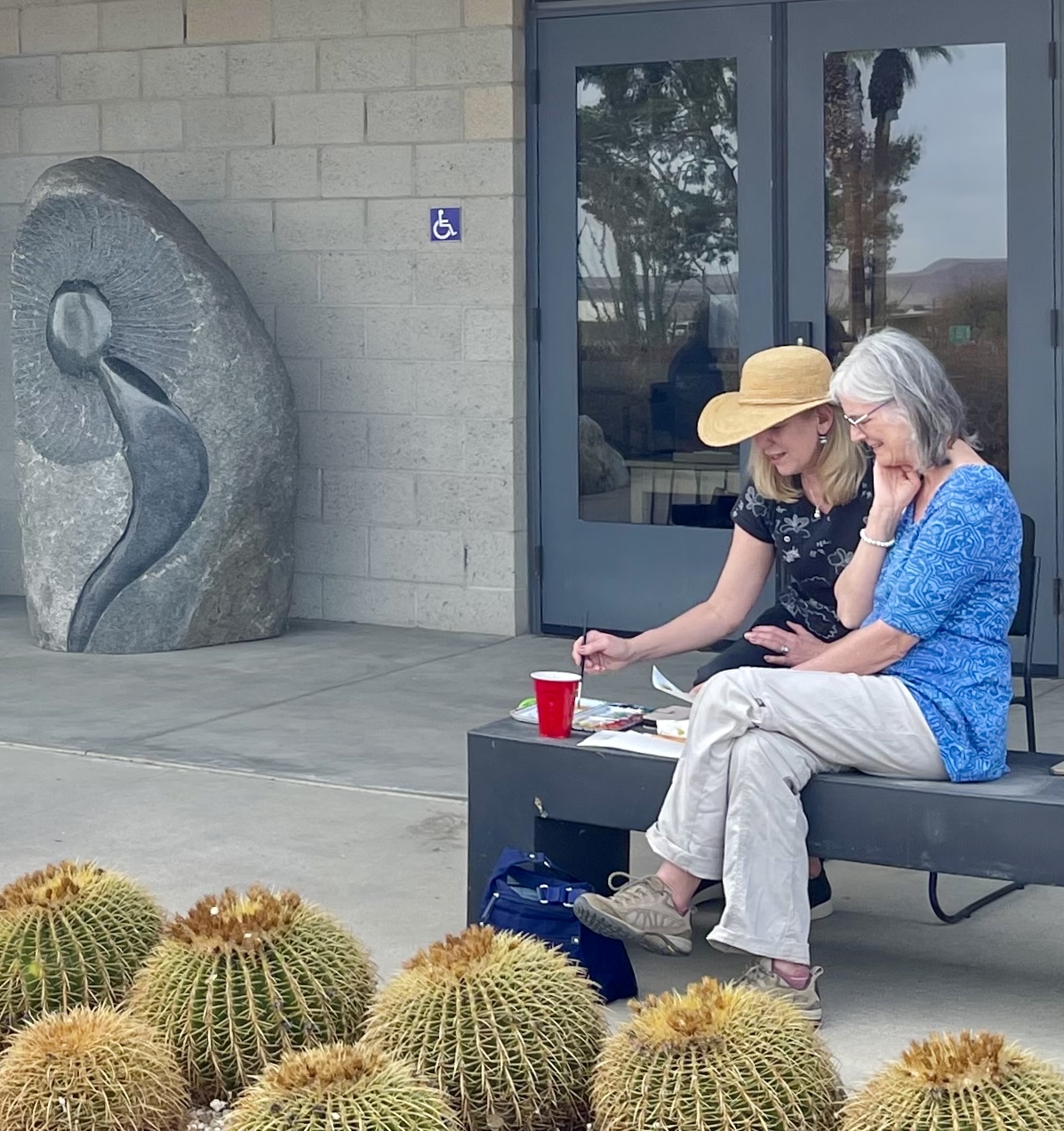 Personal help at your level
Throughout the day, I'll go from person to person offering individual help at your level.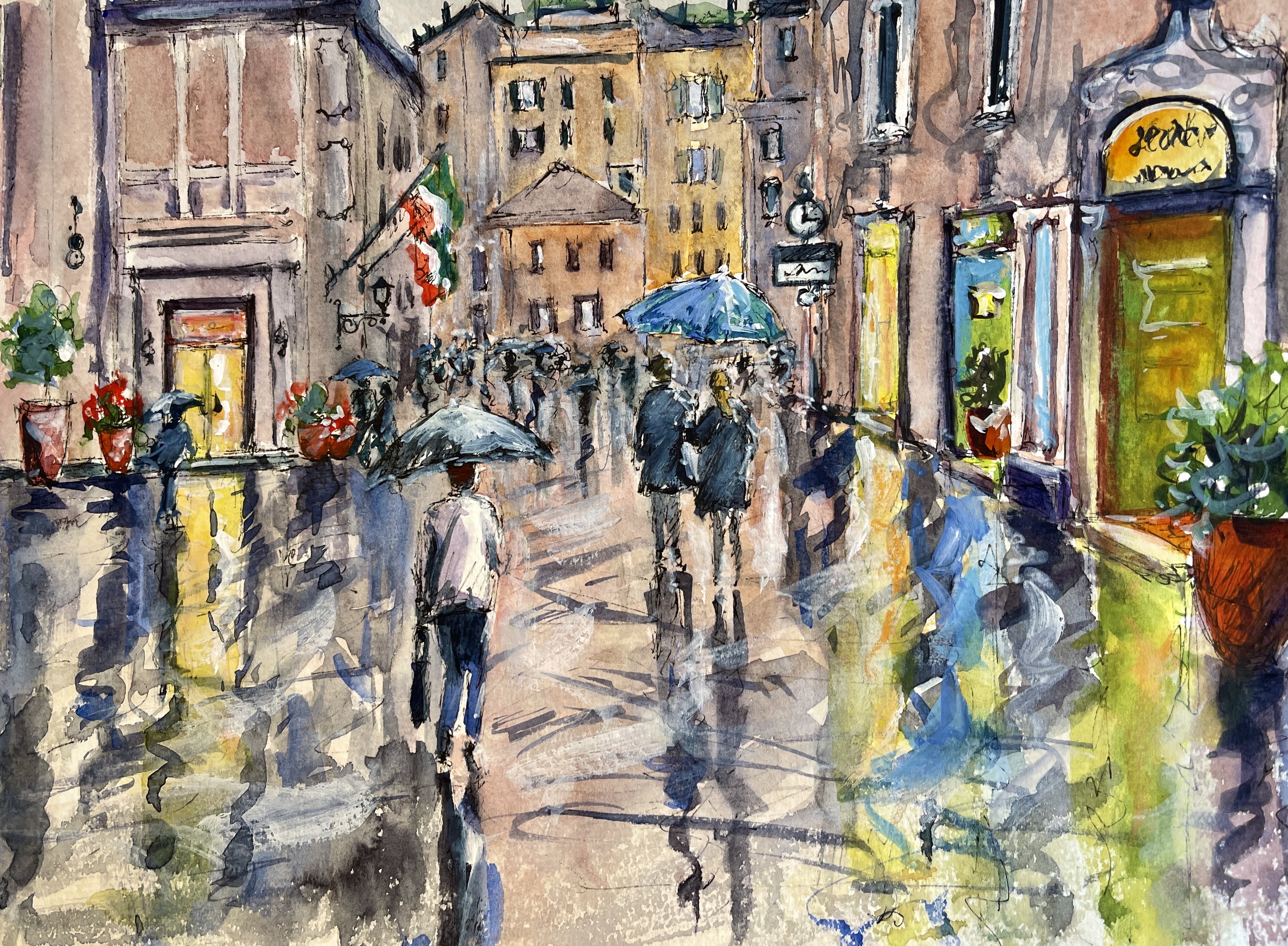 I enjoy painting rainy street scenes and people walking around with colorful umbrellas. I'll show you how to easily sketch and paint people to add scale and life to your artwork.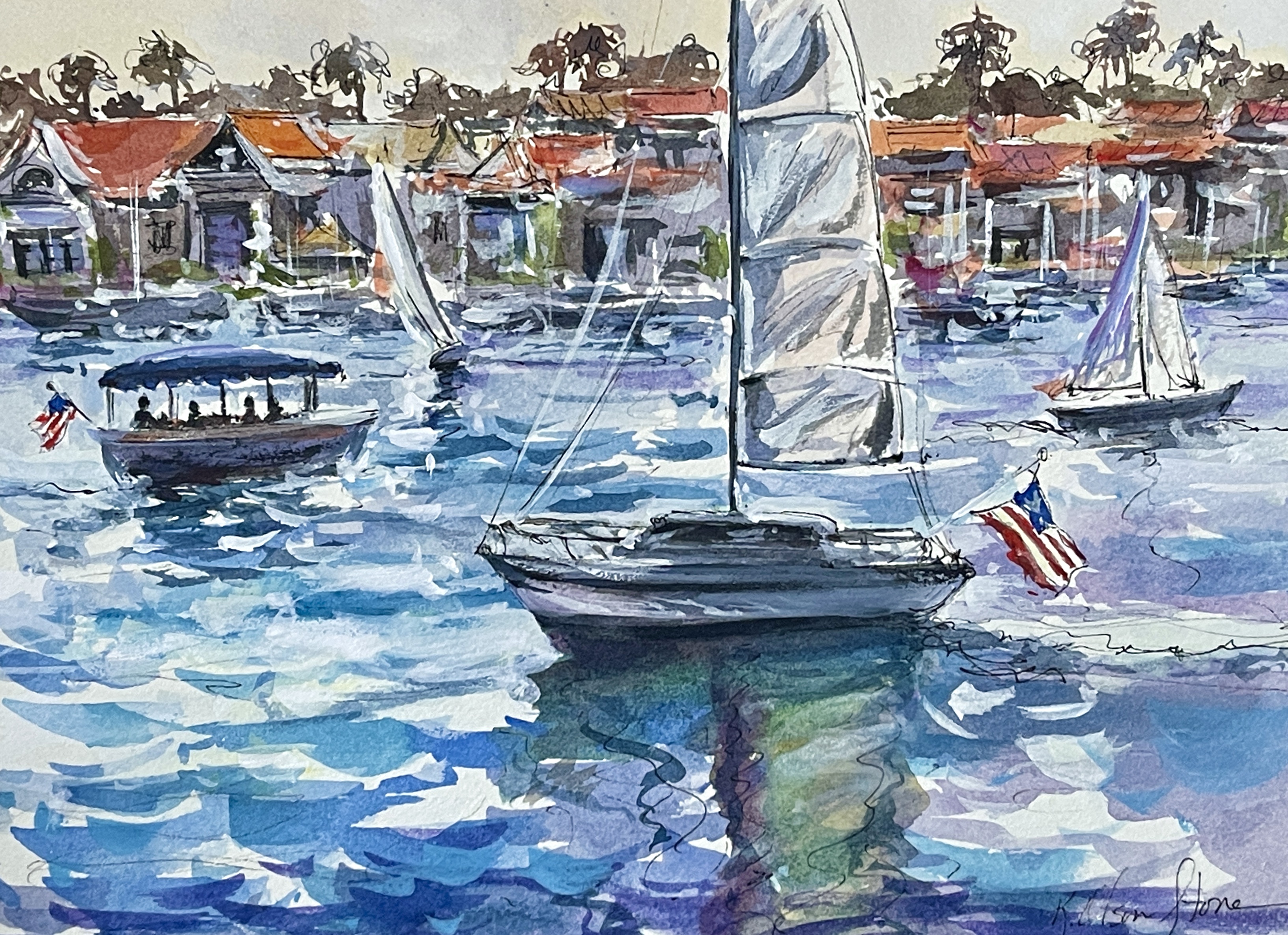 This is a watercolor sketch of The Balboa Pavillion with a Duffy boat and a sailing yacht, this pavillion is one of the most iconic buildings on Balboa Island.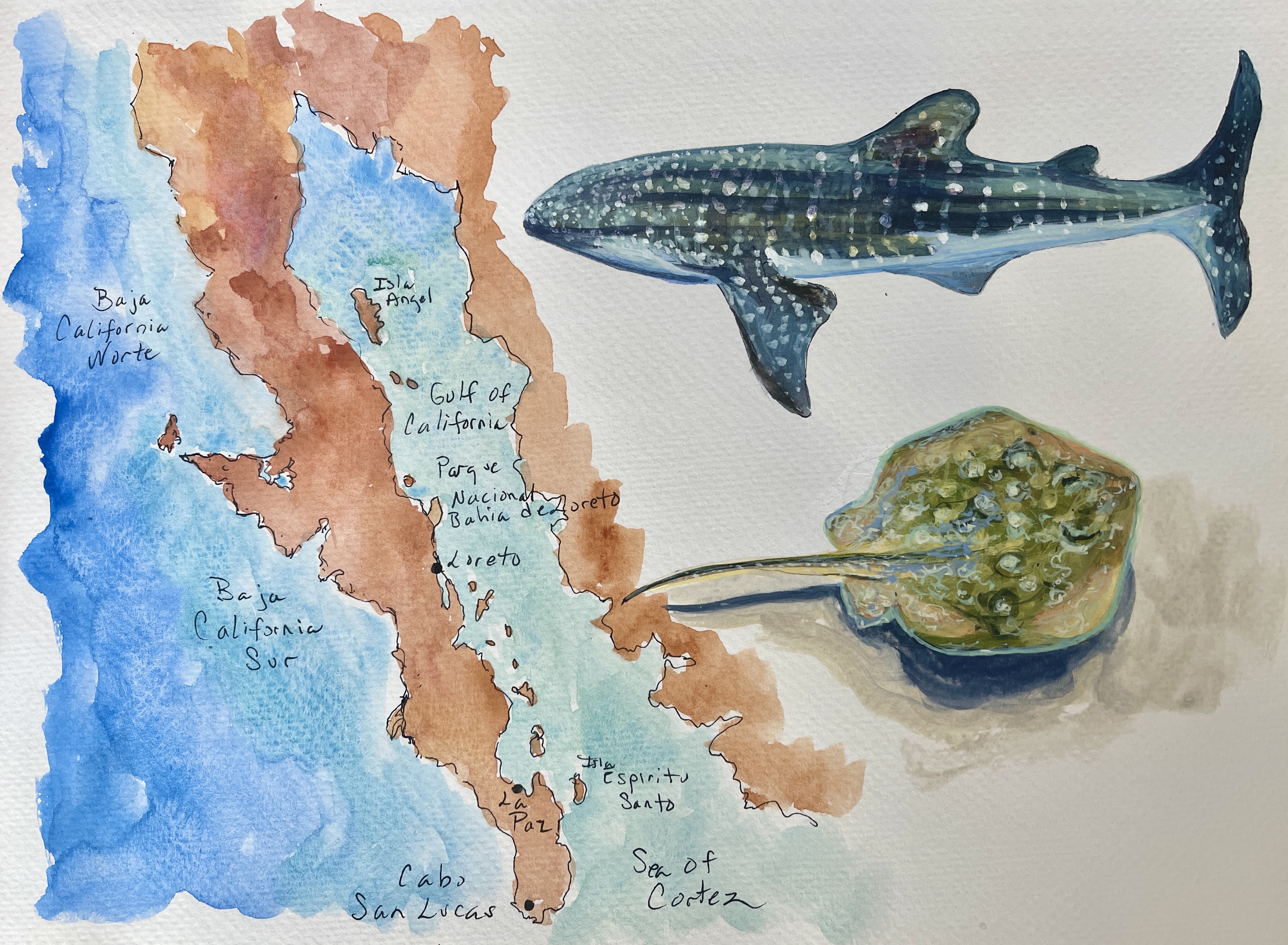 Sometimes it's fun to draw and sketch a map of where you will be going on the first page of your sketching journal as I did prior to our trip to Baja, Mexico.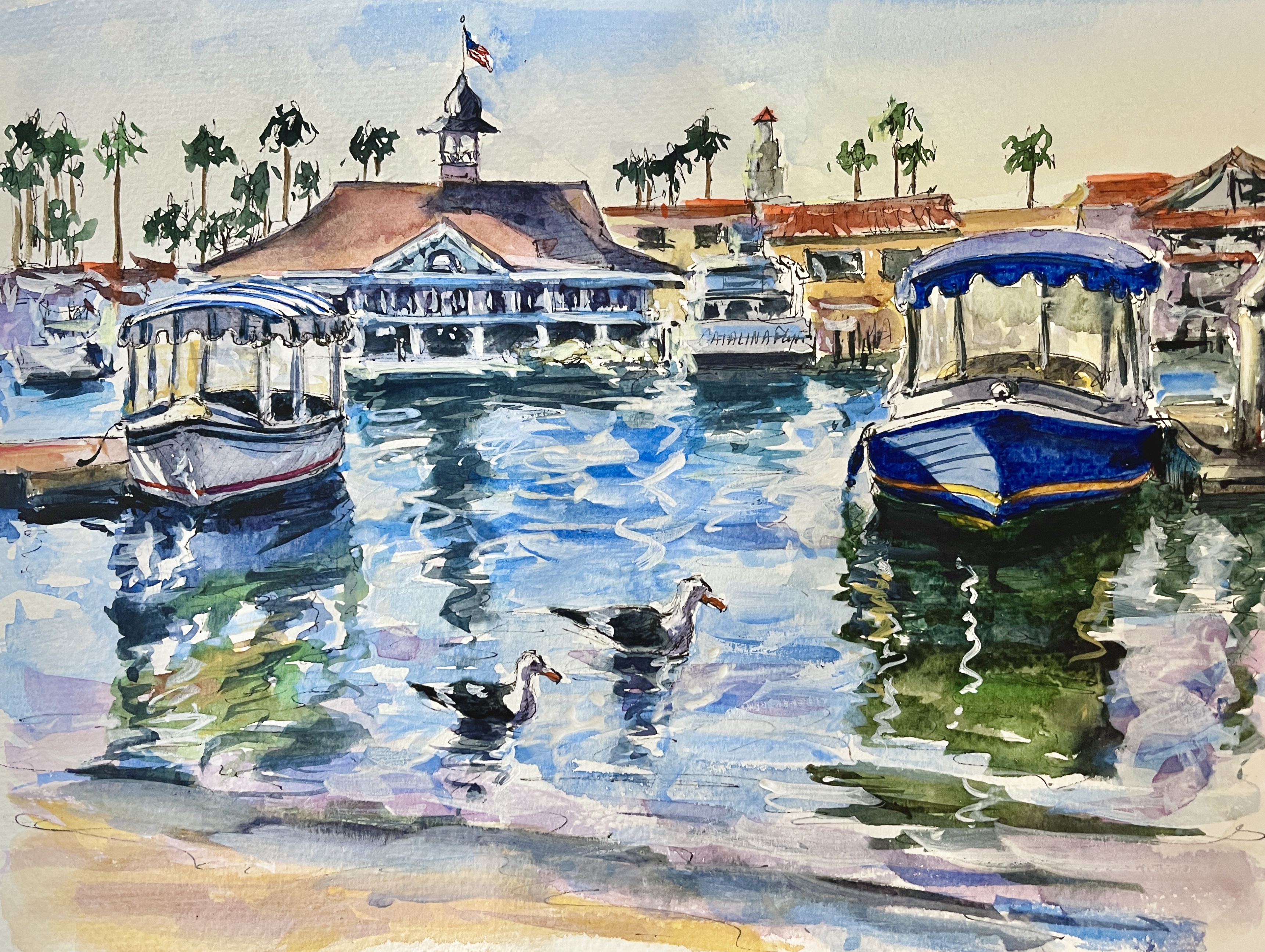 Balboa Island Duffy's

I enjoy sketching boats with reflections and also adding birds to my watercolor sketches. The Balboa Pavillion is a gorgeous building and makes the perfect background for the 2 birds and duffy boats.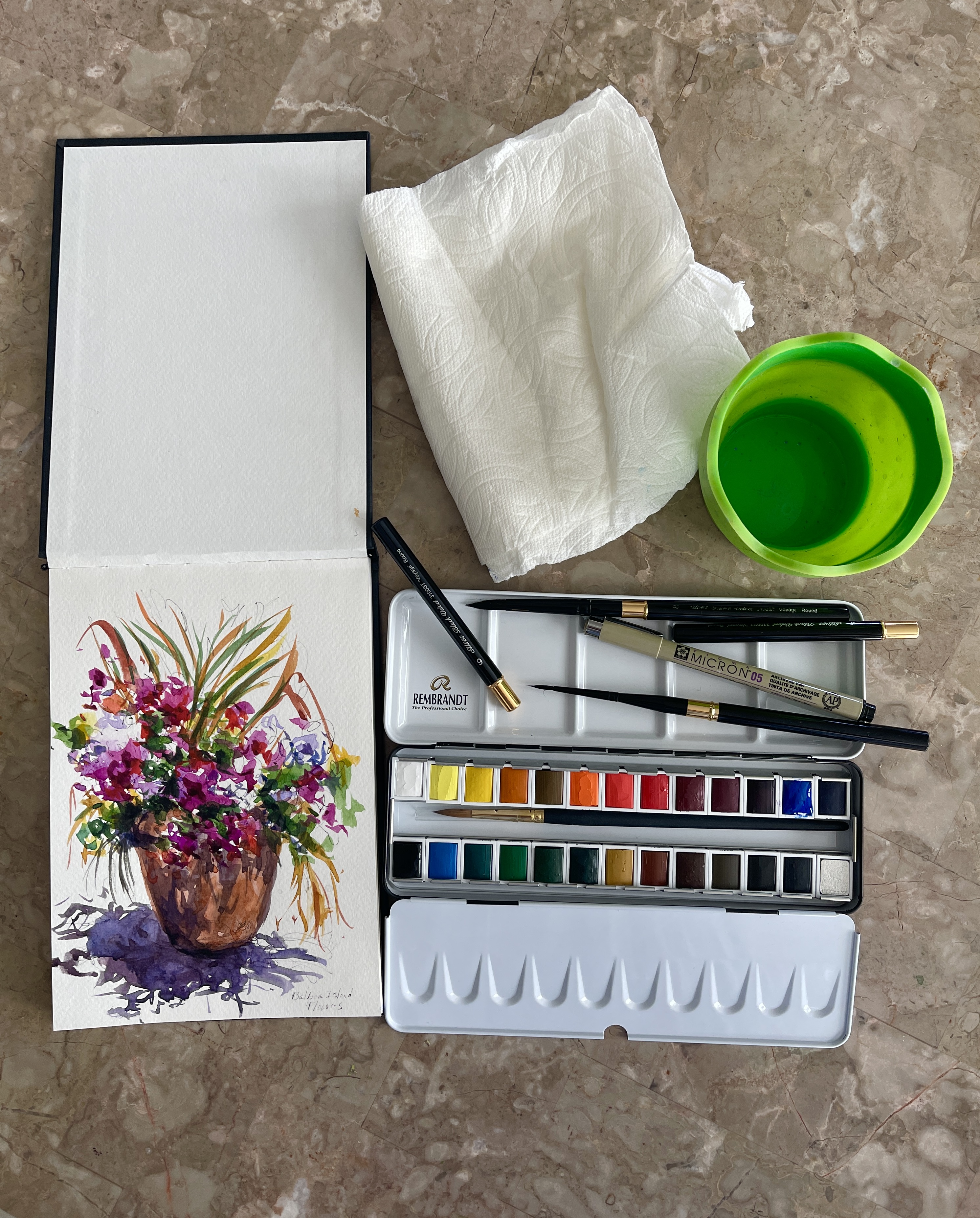 A #6 or #8 or similar watercolor brush. My favorite is the set of 4 Silver Brush Voyage Travel brushes in sizes #2, 4, 6 & 8
A small travel-sized set of watercolors. 12-24 colors is ideal but even a 6 color set will work. Shown left is the Rembrandt 24 set in a metal tin. There is room in the tin for 2 additional colors so you can order any 2 additional 1/2 pans. I added cobalt blue and opaque white to my set.
A watercolor sketching journal or pad or watercolor block. The one shown is the Rembrandt hardbound watercolor journal with 30 pages. It is size 6" x 8" or A5.
For our class I will demonstrate on a 9" x 12" size.
A permanent black ink pen such as a Micron 05 or similar.
A handful of paper towels, a bottle of water and an unbreakable water cup. My cup shown is a collapsible silicone cup from Faber Castel
To see more of my favorite watercolor sketching supplies, scroll down to preview my supply lists.
I recommend bringing a hat, sunscreen and a portable stool. I have a lightweight aluminum, foldable camping stool.


Here is where you can preview supplies including how to make your own watercolor sketching kit.
Available in days

days after you enroll

Watercolor Sketching Materials
Available in days

days after you enroll

Across The Ocean, an article written about my life as an artist in The New Zealand Artist Magazine
Once you learn the skills of how to do watercolor sketching, you can practice at home by using your favorite photos!
This is a painting of Hawaii where I lived for many years. I love to revisit my collection of photos of Hawaii and paint from them.
It's not as much fun as painting on location but it's good practice and an enjoyable way to spend an afternoon:)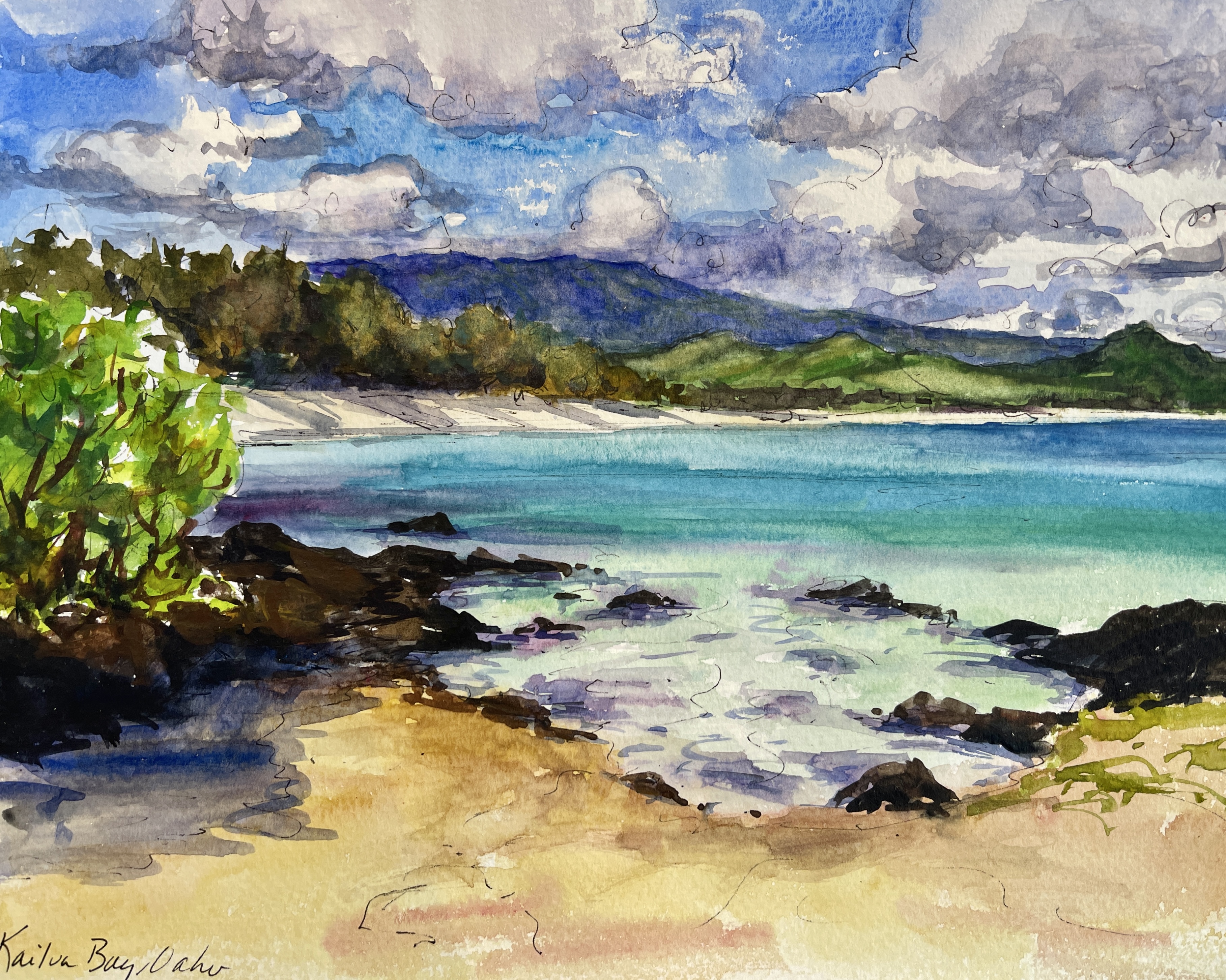 View some of my online only courses for watercolor and gouache
Check your inbox to confirm your subscription