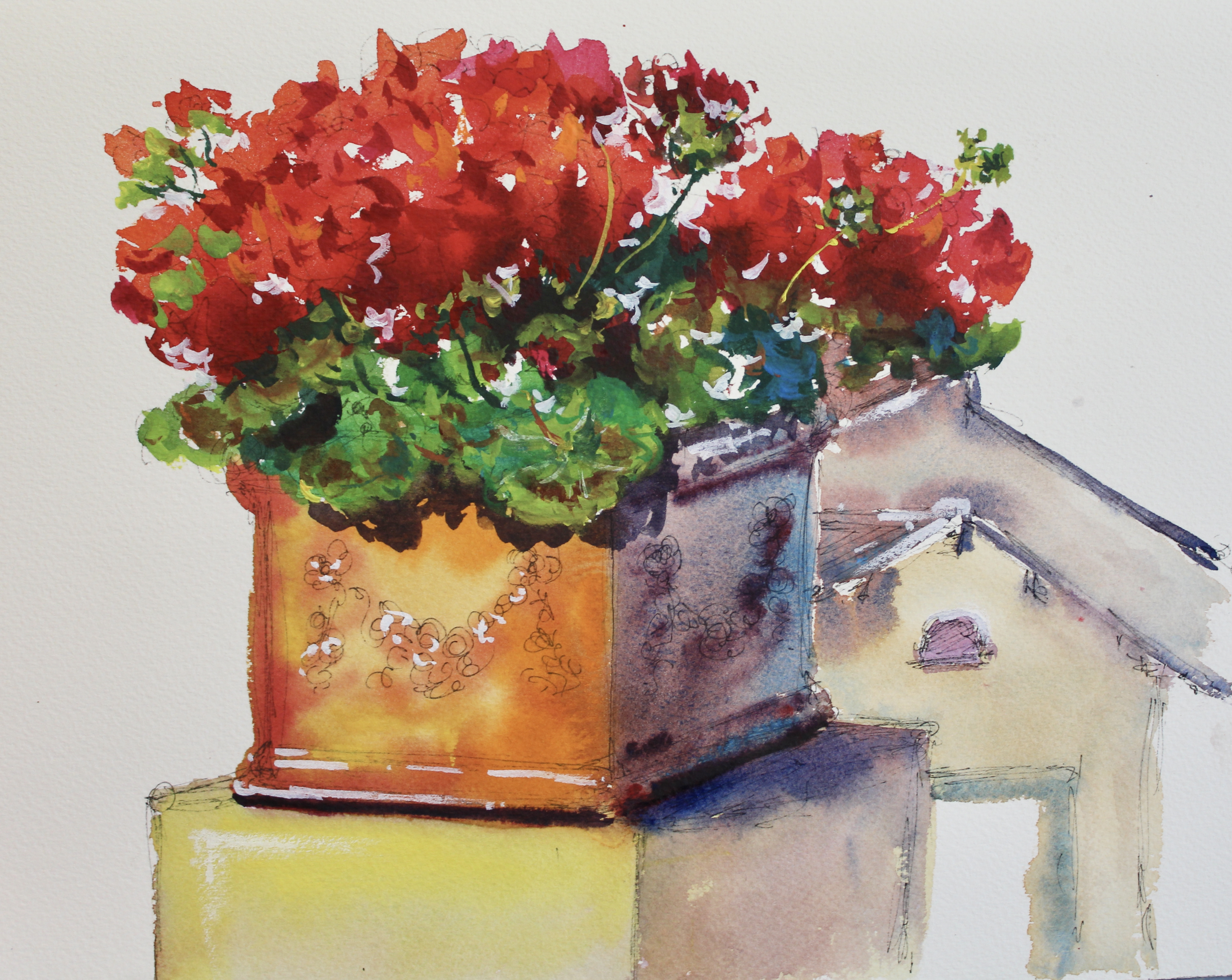 Take a "virtual" workshop online with me as we travel through the lovely landscape of Italy painting a variety of charming scenes. I have had many students tell me that they are afraid of painting in watercolor or that they are intimidated by it because they feel that they can't make a mistake. I can show you how easy it can be with this fun and relaxing way of sketching with a permanent ink pen and painting with a small kit of bright, beautiful colors.
Sketching with watercolor is a wonderful way to enhance your experience wherever you are, at home or abroad, it's so much fun to learn, build skills now to travel with later!
You will learn to capture fun, interesting and beautiful scenery from a variety of photos I provide of lovely Italy. We'll tackle how to paint scenic vistas, Italian street scenes, window scapes, Italian florals and fountains.
This online course allows you to choose when and where to learn, with the ability to pause, rewind or repeat lessons as many times as you want, you can pace yourself. Some of my students rewatch my videos again and again, repeating the lessons until they feel they've mastered it and are ready to move on.
Allow me to share my 20+ years of teaching experience with you to help you develop refined ways of sketching and painting in a style that is all your own.
Why Do Waterolor Sketching?


*Build skills to take on a future vacation.
*Watercolor sketching on vacation can enhance your trip while you create new memories.


*Sketching is a life skill that is a great activity to do with friends.


*Something anyone can learn, you don't need "talent"


*I'll teach you a loose, free approach to drawing and color mixing


*A lot of my students who paint in or acrylic oil are afraid to try watercolor because they worry that they won't be successful, this course is the perfect solution for those who feel intimidated by watercolor


*For experienced painters it will help add hours of practice and skill building that will feed their studio artwork
*You can fit the entire sketching kit in a small purse or a small drawer in your home.
*You don't have to clean up a big mess when you're finished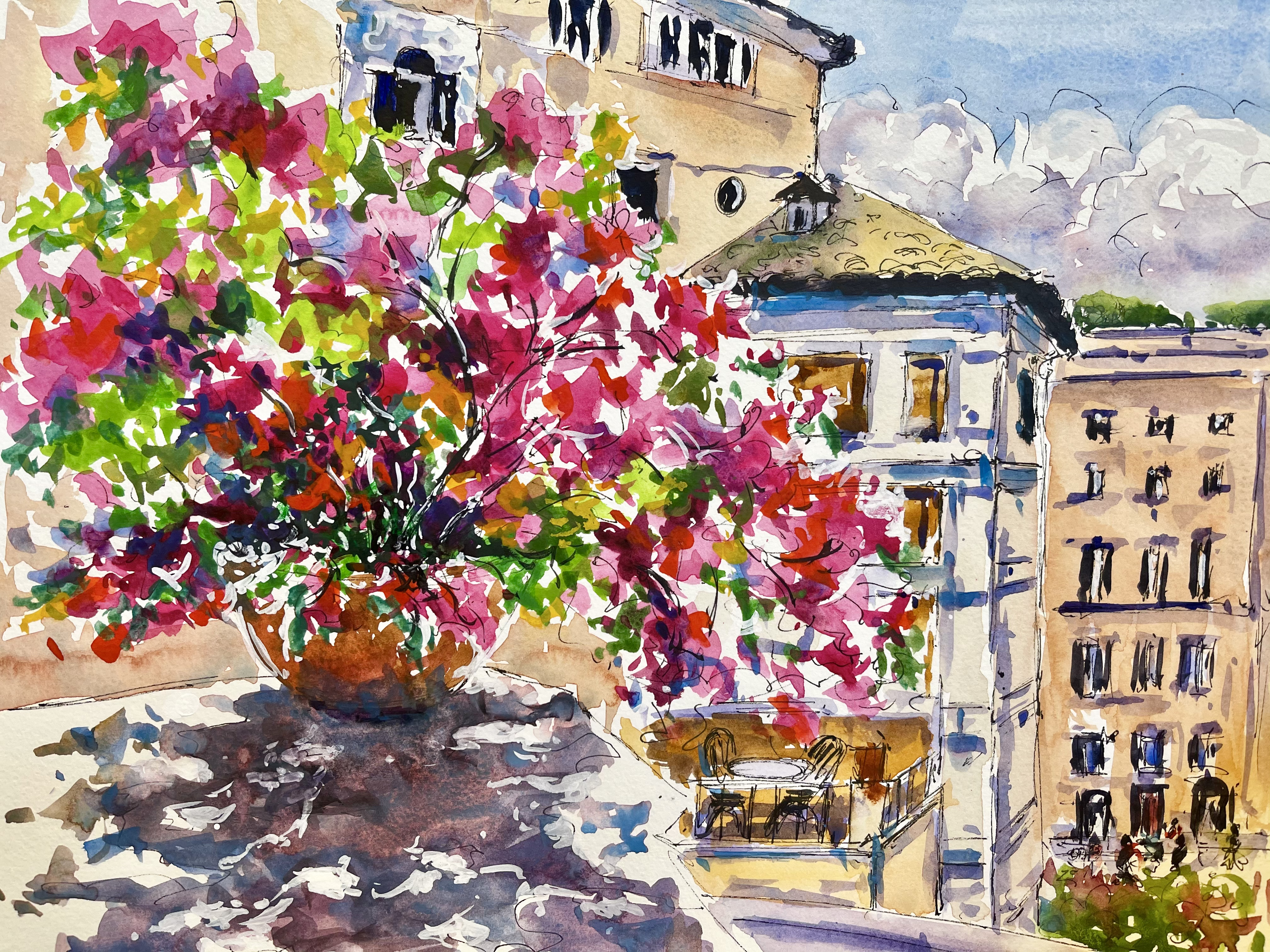 Bougainvillea And Architecture
Learn to paint a beautiful pot of bougainvillea with Italian architecture and a tiny courtyard in the background.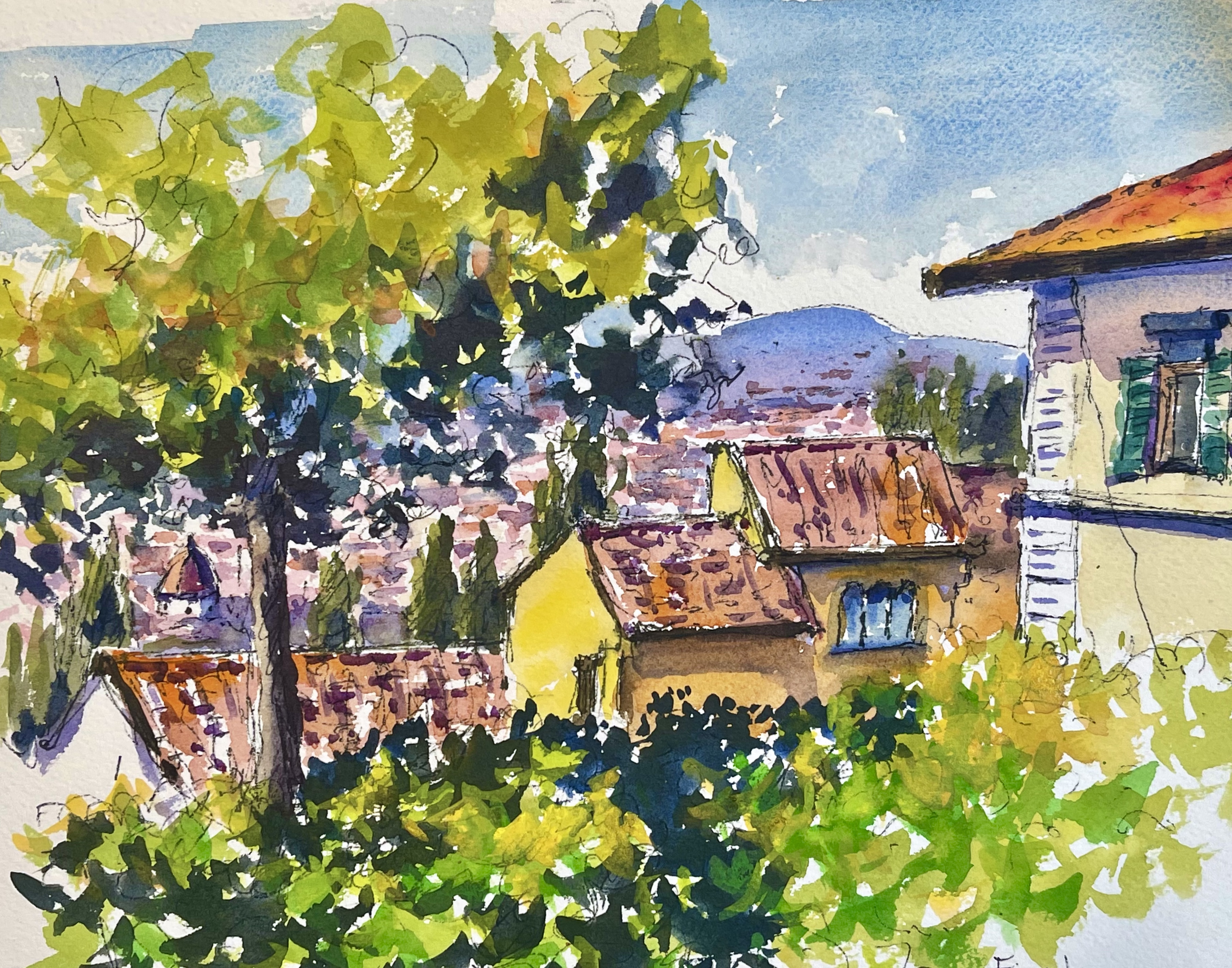 Learn how to create a charming painting of the view overlooking Florence as seen from the hillside town of Fiesole.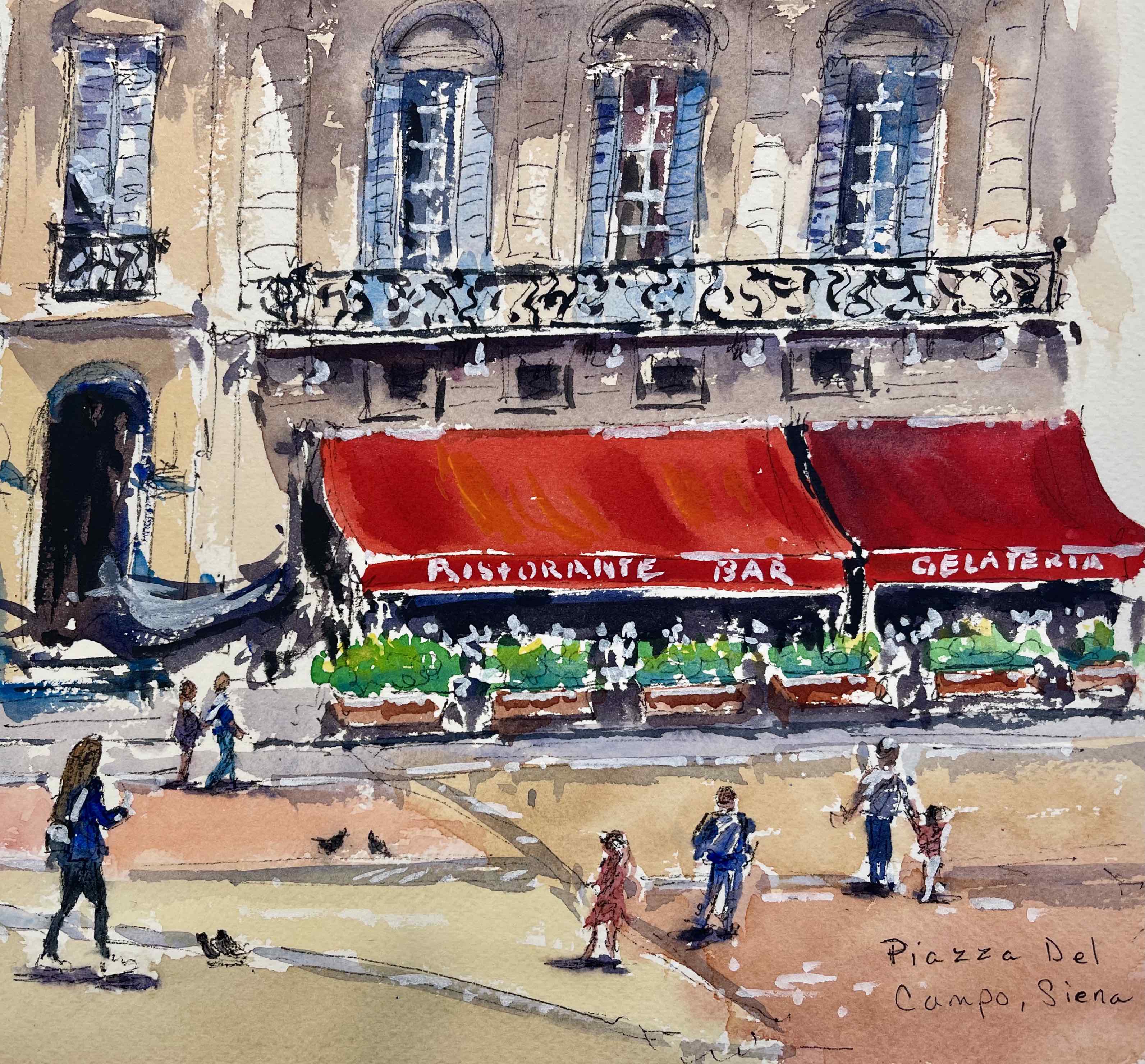 Learn how to easily draw people into your sketches as well as awnings, windows and capture the light and shadow on a beautiful Italian building.
Not too long ago I moved from NH to CA. Took 6 months to get my house organized and bingo we were under "house arrest" for the virus and I hadn't painted in almost a year and lost my creativity. I looked on "'Bold Brush" and found a class listed as "paint the California desert" I liked the painting that advertised the class and when I spoke to Kristen I knew it was a go. I'm a moderately experienced painter and loved watching Kristen demonstrate and talk about what she was doing. I understood what she was saying and learned about round brushes and how to use them. I love to watch Kristen's brush work. It makes me want to paint. Not only that, she has a sense of humor, is refreshing easy to talk to, and loves to teach.
Beverly
I have been following Kristen's fun video lessons one after another on teachable for a while. With her teaching I learned how to mix vibrant impressionistic colors and brushstrokes. Paint along with her is always fun and enjoyable. 
Jiann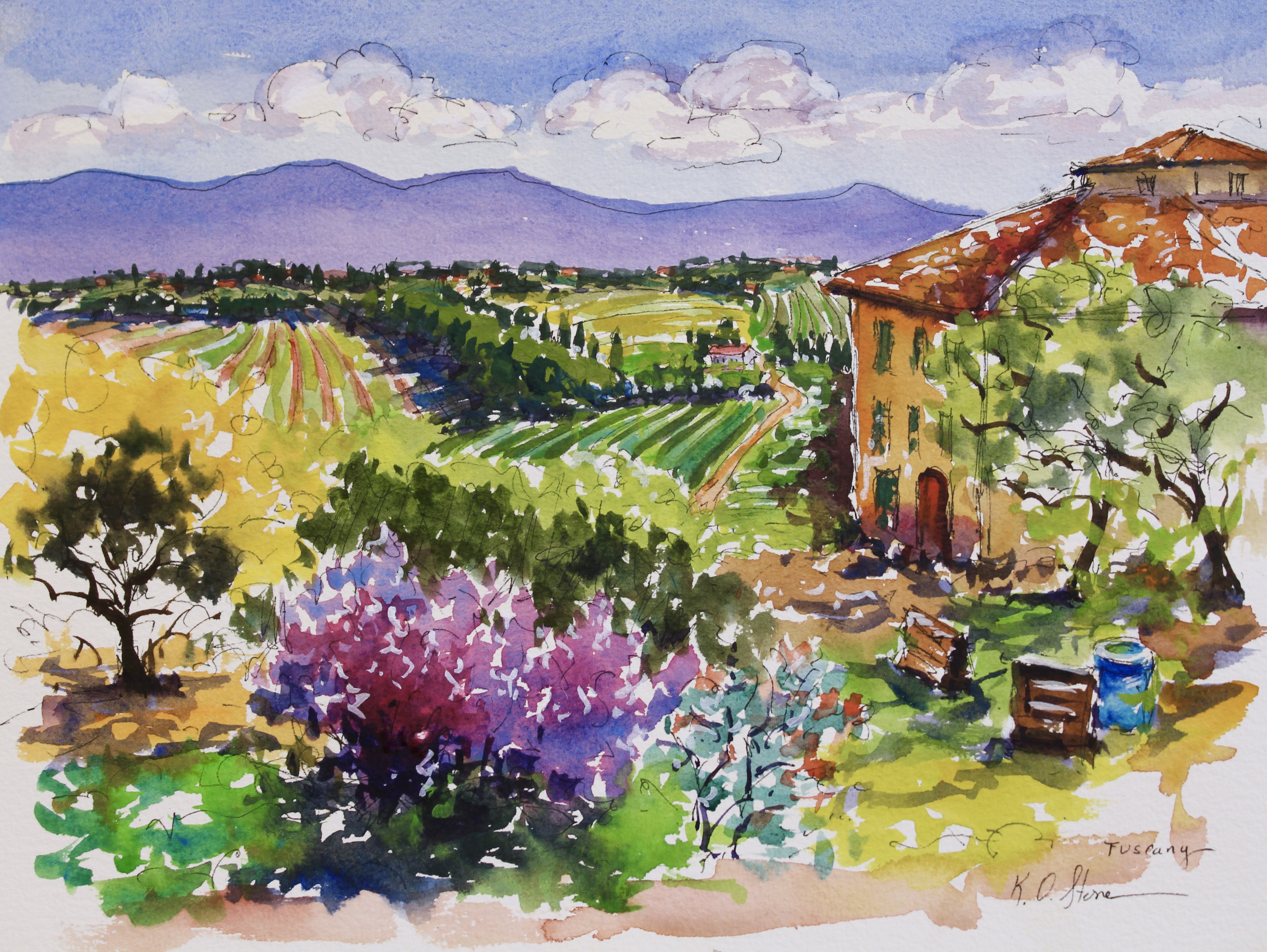 Preview the supply lists and view the course curriculum


Available in days

days after you enroll

Let's Paint Tuscany!!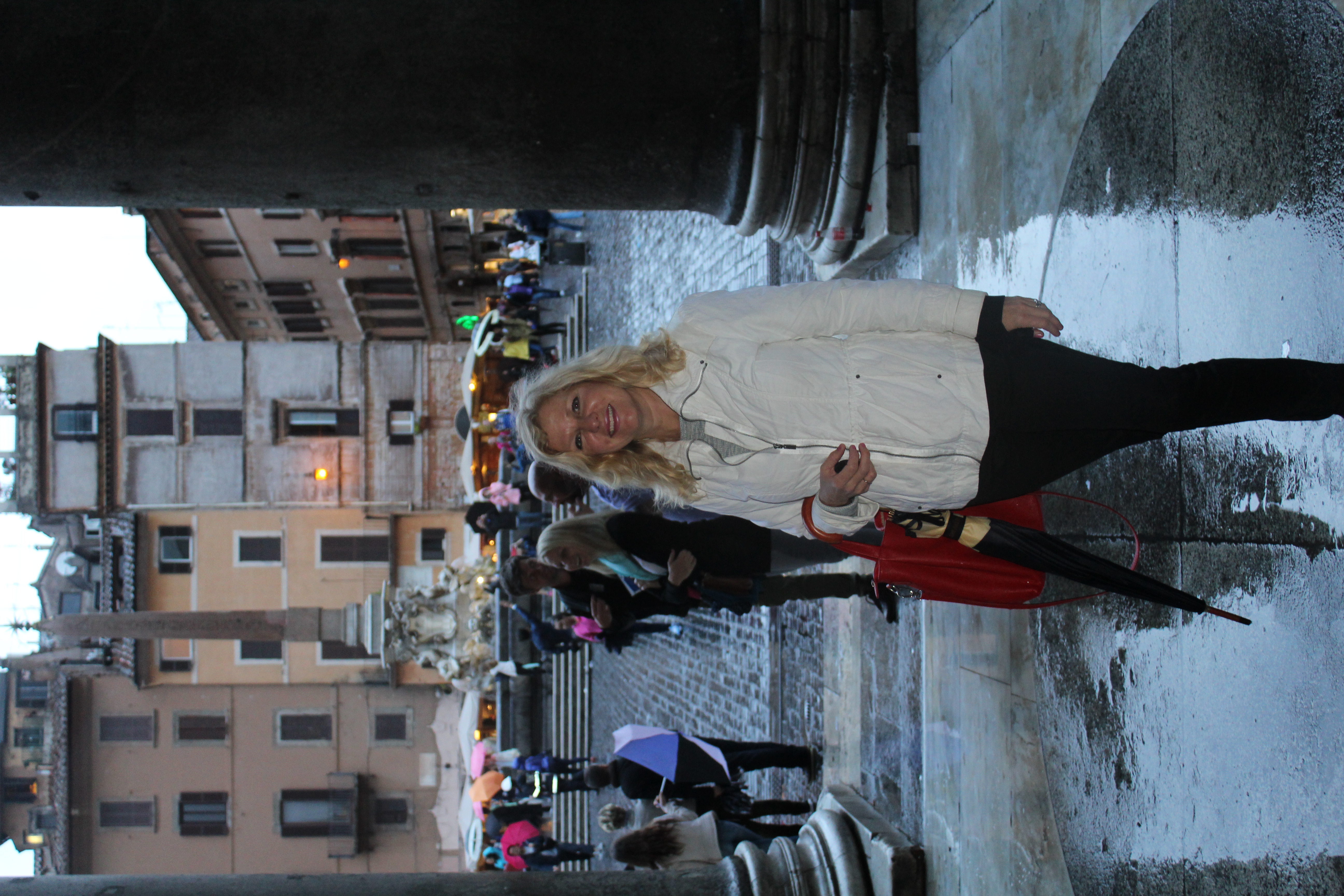 I've Traveled The World With My Paints
I've taught workshops in Tuscany, New Zealand and The US including Hawaii
This is me in Rome, My entire painting kit is in that red purse:)
I'll show you how you can make complete paintings with rich colors with the smallest and most portable watercolor kits.
These are also great for "kitchen table painters", who need a set of art supplies that they can easily pull out of a small drawer and start painting with right away.
Easy to store, easy to pack and easy to clean up. Learn the right skills and you will be on your way to sketching anytime anywhere:).
Learn the craft of watercolor sketching so that you can create lasting memories as you actively record the things you love within your surroundings while sketching and painting.