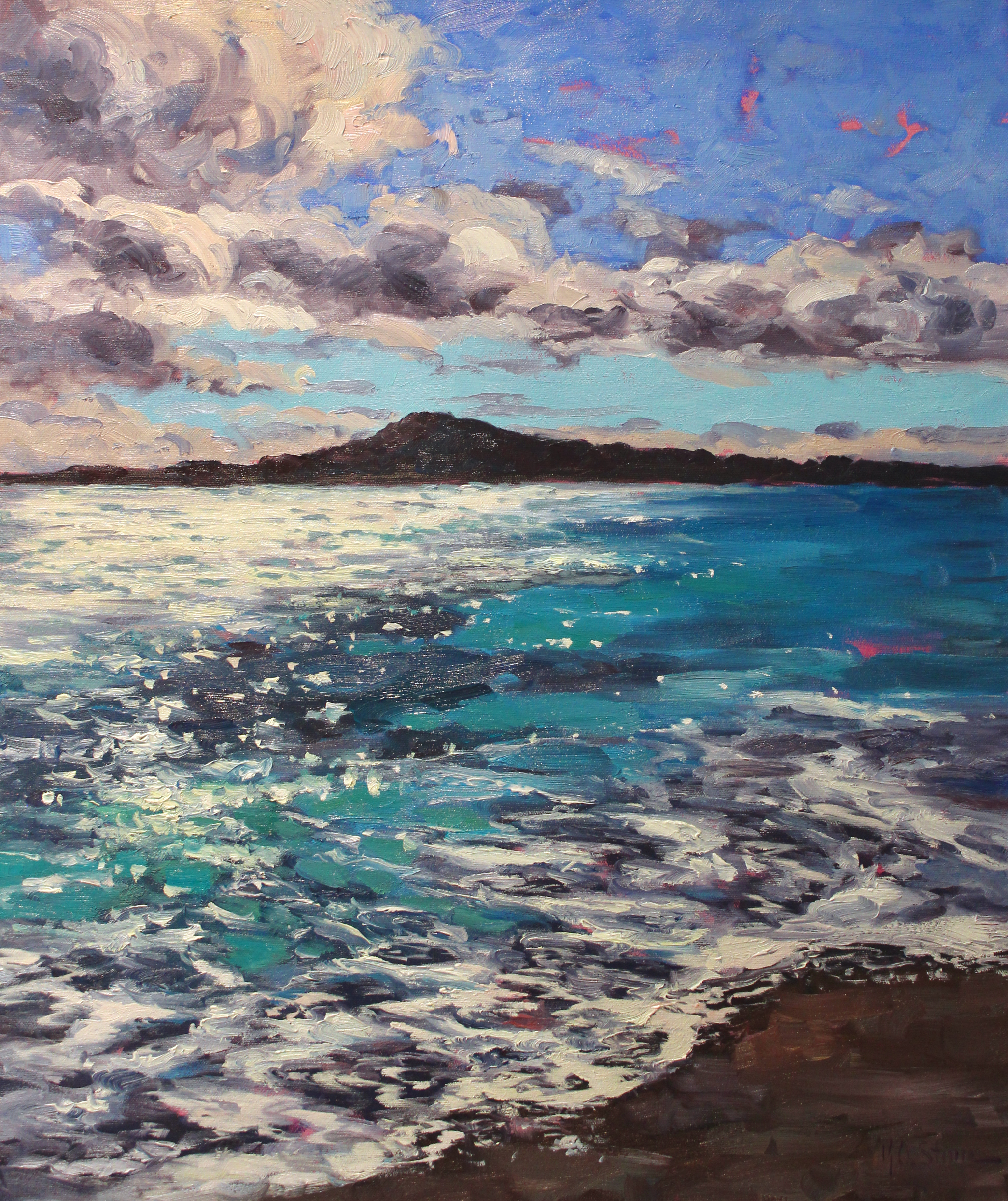 The scene above is one of the lessons, it's of Russell in Northland, New Zealand
"I really enjoyed learning about shadows and how to paint trees in this one . Such a peaceful scene , jam packed with tips and tricks on perspective , texture and colour. Kristen's teaching method is gentle , informative and clear. Easy to follow and full of 'ah ha' moments."
~Siobhan
The painting on the left is Rangitoto Island from Saint Heliers Bay, Auckland. I love the dramatic light in this. photo, I will teach you how to paint this scene using a limited palette. We will explore how to create glowing sparkles of light on the ocean, sea foam and drifting clouds.
"I loved Kristen's New Zealand workshops . I learnt how to do clouds, shadows , water, rocks, and mountains. Every lesson is packed with tips on colour, tone , Composition and value , all the important things to give me the confidence to attempt my own paintings. I enjoyed the lovely loose style and learning that soft edges translate into wet edges. Learning about closer value ranges for the distance , took me a few years to learn about values"
S. Demeester
Preview the supply lists and view the course curriculum
Available in days

days after you enroll

Paint 3 Scenes Of New Zealand + notes and palette notes
Why Do Artists Love New Zealand?
Surrounded by miles of coastline, the 2 islands are a painter's paradise. It's lovely weather, dramatic skies and beautiful beaches are stunning. I had the experience of living there for almost 3 years. I've selected 3 scenes from my photos for this workshop. A unique set of lessons is contained in each photo.
Learn to paint cloud reflections on the wet sand
Step by step I'll guide you through painting beautiful reflections of the clouds in wet sand. It's all about edge work and the subtleties of warm and color colors. We'll explore how to paint the sea rocks reflecting into the water as well.
This is Mangawhai Beach, a favorite place for Kiwi's to vacation and one of my favorites as well. The green hills and clear skies add to the beauty of the whole scene.