What does a personal critique or "painting makeover" look like?
Here is an example of one of my painting critiques. Each critique is unique. I figure out the best way to share my helpful hints with you. Sometimes I create mini movies of me working on your painting with my digital paint brush, at other times I make diagrams and I always send an accompanying email.
Each one is tailored to your style and skill level to help you move forward on your artist journey.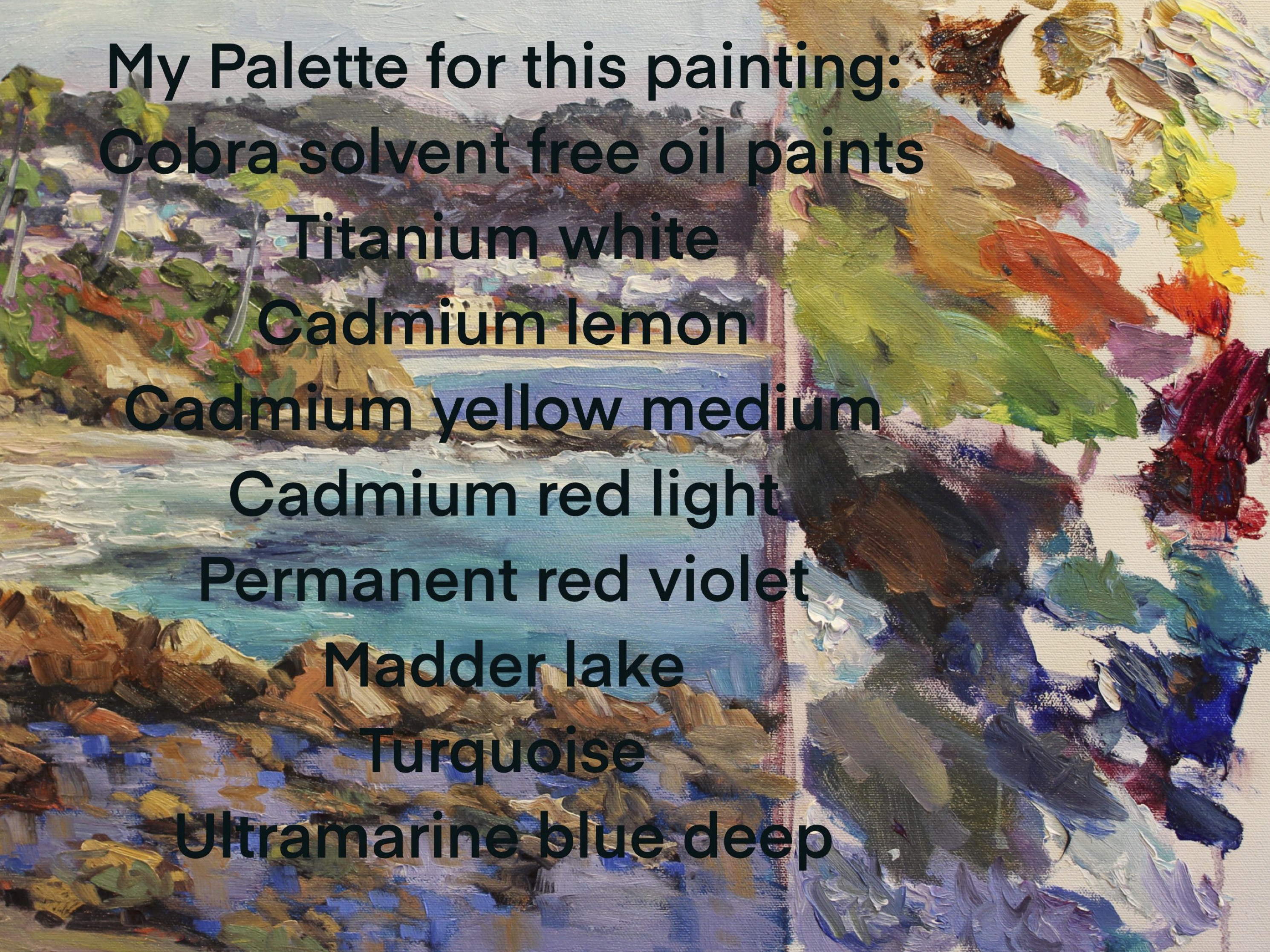 This shows my palette adjacent to the canvas. You can see some of the colors I mixed during the video demonstration,. You will see all of my color mixing in real time as I explain in detail why I mix certain colors together.
What you get


*You'll have 3.2 hours of video lesson to watch covering how to paint 2 uniquely different seascapes of Laguna Beach.


*Design and composition diagrams explaining eye movement, foreground, middle ground and background and more
*Reference photos
*A personal critique of your finished painting by me
*Photos of the finished painting including detail photos


*Once you purchase the course you own it for a lifetime
"I'm loving this class and you have me thinking and forward planning my painting, if that makes sense. I'm also enjoying for the first time water based oils and round pointed brushes."
BG
I enjoyed that immensely. Got so immersed in it I forgot about the open home we were having and when the real estate arrived there was paint everywhere! I'm a messy painter. 
I can see from the photo there's a few mistakes. But I learnt a lot and next time I do cliffs I hope to nail it. 
SD
I enjoyed Kristens class immensely. 
I was impressed with how easily I was able to produce a lovely painting under her generous and detailed expertise. 
I learnt skills that I can happily and confidently transfer to my own work.  Kristen then took time out to critique my painting. With some very helpful advice I was able to touch up my painting transforming it from great to fantastic. 
Siobhan
I have been following Kristen's fun video lessons one after another on teachable for a while. With her teaching I learned how to mix vibrant impressionistic colors and brushstrokes. Paint along with her is always fun and enjoyable. 
Jiann 
Not too long ago I moved from NH to CA. Took 6 months to get my house organized and bingo we were under "house arrest" for the virus and I hadn't painted in almost a year and lost my creativity. I looked on "'Bold Brush" and found a class listed as "paint the California desert" I liked the painting that advertised the class and when I spoke to Kristen I knew it was a go. I'm a moderately experienced painter and loved watching Kristen demonstrate and talk about what she was doing. I understood what she was saying and learned about round brushes and how to use them. I love to watch Kristen's brush work. It makes me want to paint. Not only that, she has a sense of humor, is refreshing easy to talk to, and loves to teach.
Beverly
Tide Pools And Reflections, Look At The Greens, Violets, Blues and Gold Just Within The Tide Pools
Learn to paint tide pools and reflections within them, divide foreground, middle ground and background. Afternoon light creates a golden glow in this painting.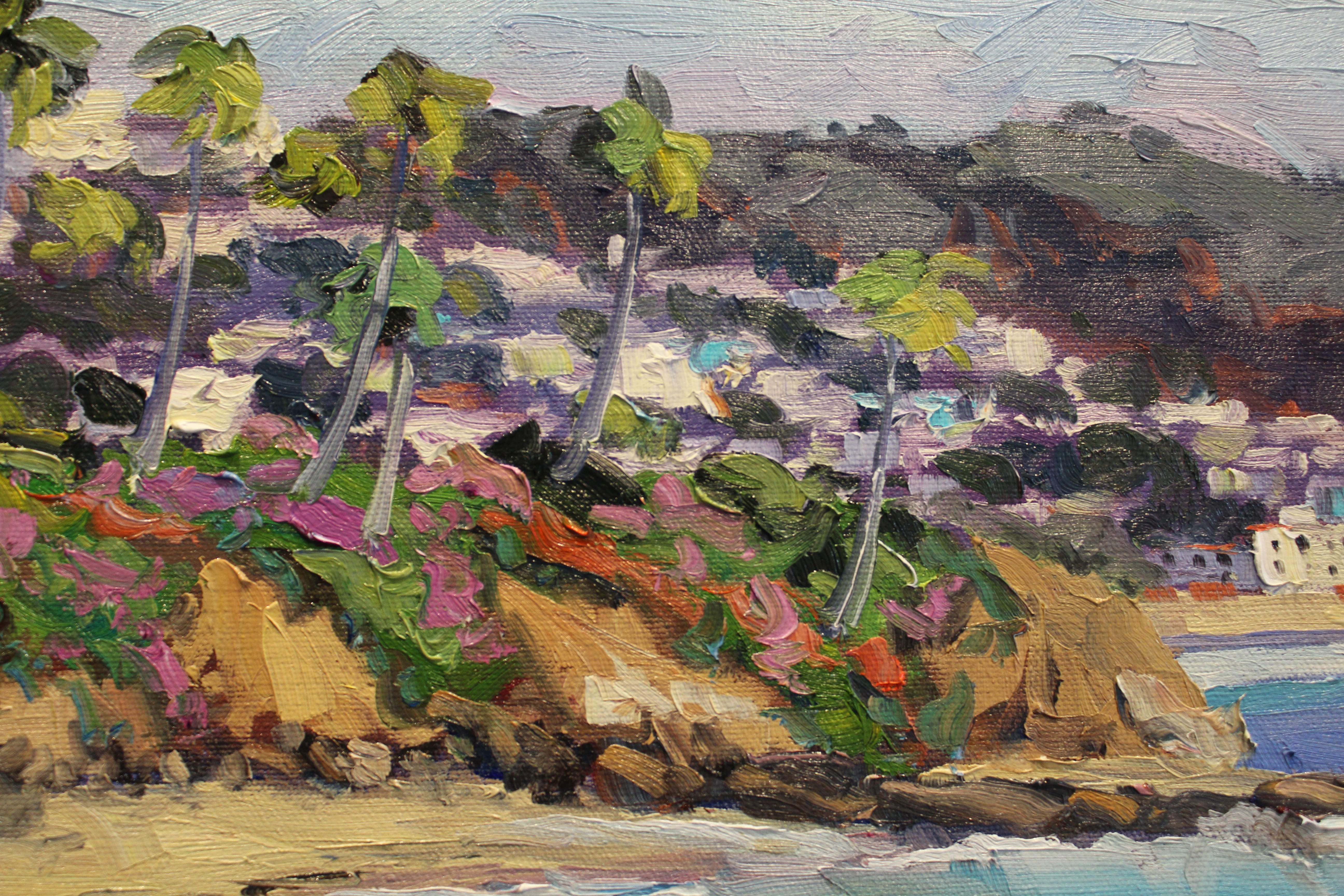 Laguna Beach has beautiful sea cliffs, gorgeous colors and beautiful ocean water.
Learn to paint flower lined sea cliffs, palm trees and create impressionist brushstrokes to show houses on the distant hillside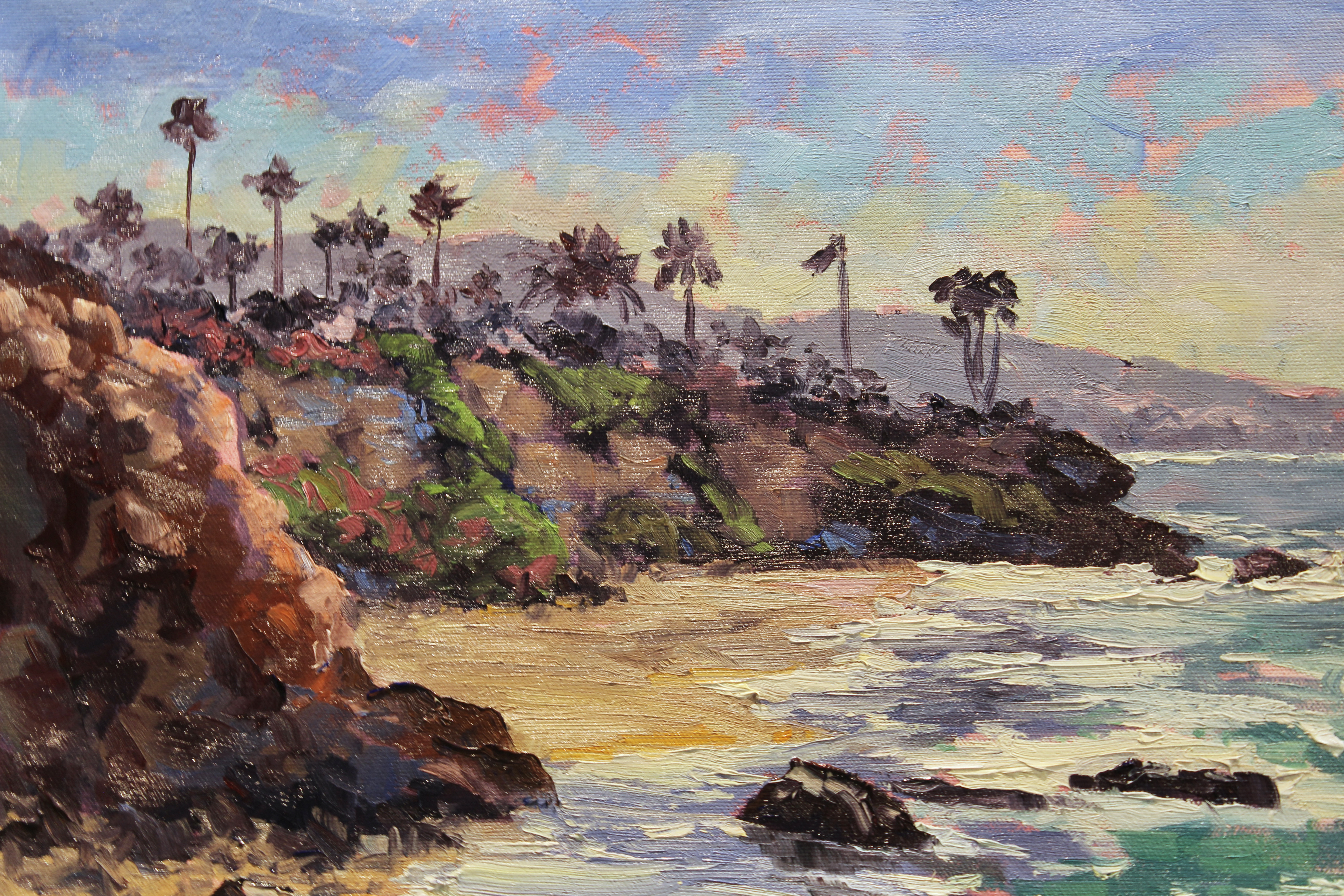 Early morning is a whole new lighting situation creating dramatic lighting and glare on the water.
Learn to paint details within the shadow side of the cliff, palm trees in silhouette, breaking waves with glare, wet sand reflections and more.
Preview the supply lists and view the course curriculum


Available in days

days after you enroll

Supply lists
Available in days

days after you enroll

Let's Paint Laguna Beach!
Available in days

days after you enroll

Newly recorded video....Painting Diver's Cove
Paint 2 Different Scenes, One In The Morning Light, The Other In The Afternoon Light
I'll explain how the early morning light creates dramatic shadows and glare on the water at Divers Cove and how to paint it.
I'll show how to capture the beauty of the golden afternoon light in the painting of The Laguna Coastline as viewed from Heisler Park.