The Class
We will meet at the lookout on the corner of Poppy Street and Ocean Avenue. Parking is free on the adjacent side streets.
I will give a morning demonstration showing how to design, draw and paint the scene. I'll emphasize design using division of space, lines, the importance of values, color mixing and edgework. After my morning demonstration, I will spend the afternoon going from easel to easel helping each of you with your artwork at your own level. This class is perfect for beginners through advanced artists.
Scroll down to preview the supply lists and map of the location.
Details:
There are views to paint from the lookout as well as down on the beach. There is a public restroom and a bottle filling station. On nearby Pacific Coast Hwy., there are restaurants and shops.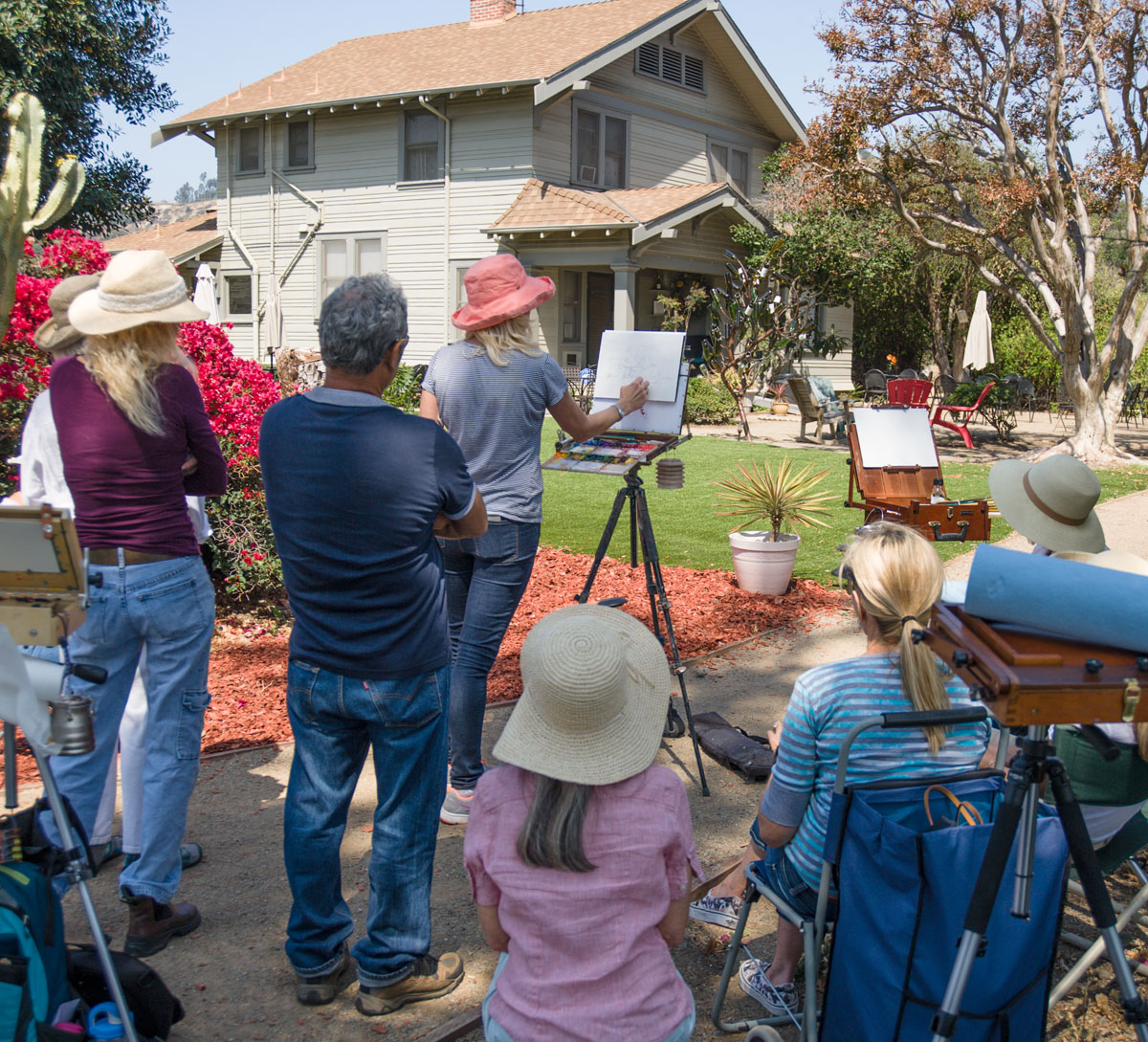 I've been painting and teaching around the world for over 20 years. I enjoy meeting fellow artists and art lovers and sharing everything I know about painting.
I mostly paint in oils and am known best for my seascapes and garden landscapes. I also paint and teach in water mixable oils, gouache, watercolor and even occasionally in pastel.
I will be demonstrating in water mixable oils for this class and will also demonstrate how to do a small watercolor painting.
This class is limited in size and is open to artists of all levels including complete beginners.
What students say...
Kristen, thank you for the great workshop! Everyone agreed we have never had anyone give such an informative presentation. 
Right now I have to paint a large canvas for my granddaughter-to-be. My daughter wants cactus and succulents, with flowers. After listening to you, I just did the undercoat in pink to go with all the green. I am glad I took notes and really paid attention to YOU. Hoping to get a chance to paint in one of your future workshops again soon.
Debbie H
Not too long ago I moved from NH to CA. Took 6 months to get my house organized and bingo we were under "house arrest" for the virus and I hadn't painted in almost a year and lost my creativity. I looked on "'Bold Brush" and found a class listed as "paint the California desert" I liked the painting that advertised the class and when I spoke to Kristen I knew it was a go. I'm a moderately experienced painter and loved watching Kristen demonstrate and talk about what she was doing. I understood what she was saying and learned about round brushes and how to use them. I love to watch Kristen's brush work. It makes me want to paint. Not only that, she has a sense of humor, is refreshing easy to talk to, and loves to teach.
Beverly
Kristen is not only a fabulous painter, but a very a highly skilled instructor. I have taken several watercolor courses from her and always am blown away by how much I didn't know!! Her instruction has really impacted my work. She answers questions well and is very motivated to help students at all levels of experience. I appreciate her kindness and vast level of knowledge. Highly recommended! 
Jana
A little bit about me...
Ever inspired by nature, I love painting on location at home and abroad as well as creating large-scale, detailed studio paintings with multiple layers of paint.
My artwork is a contemporary blend of realism and impressionism, the majority of my work is coastal landscapes, marine life paintings and garden paintings. Having recently returned from living in New Zealand for almost 3 years, I'm a multi-award winning artist, recently featured in Plein Air Magazine and The New Zealand Artist Magazine. I was the lead plein air artist alongside Robert Bateman at the world famous SKB Foundation. I have 8 years of experience with a wide variety of art materials as I am an Artist Ambassador for both Royal Talens and The Silver Brush Co.
I endeavor to paint each work of art in a completely unique way from start to finish. When viewed at a close distance, the colors and texture are beautiful and interesting in their own abstract way, when viewed from a further distance, the shapes, colors and brushstrokes magically come together to reveal the painting's subject.
My artwork hangs in luxury and corporate collections worldwide including a painting in the White House Collection, (Barack and Michelle Obama), as the collection of The New Zealand Parliament with The Honourable Simon Bridges. Our research shows that I am the only person in the world to have a painting in both the White House and The New Zealand Parliament.
"I have taken a number of workshops, mentoring sessions and online classes and Kristen is hands-down my favorite instructor. She is not only an extremely talented artist, but an effective teacher. It is truly a gift to be able to provide valuable and meaningful advice and guidance in a positive and inspirational way. Kristen is so encouraging and can explain difficult concepts clearly and put them in the context of your individual skills as an artist. I highly recommend Kristen's online classes and if you have the opportunity to work with her in person, don't miss it!"
Marie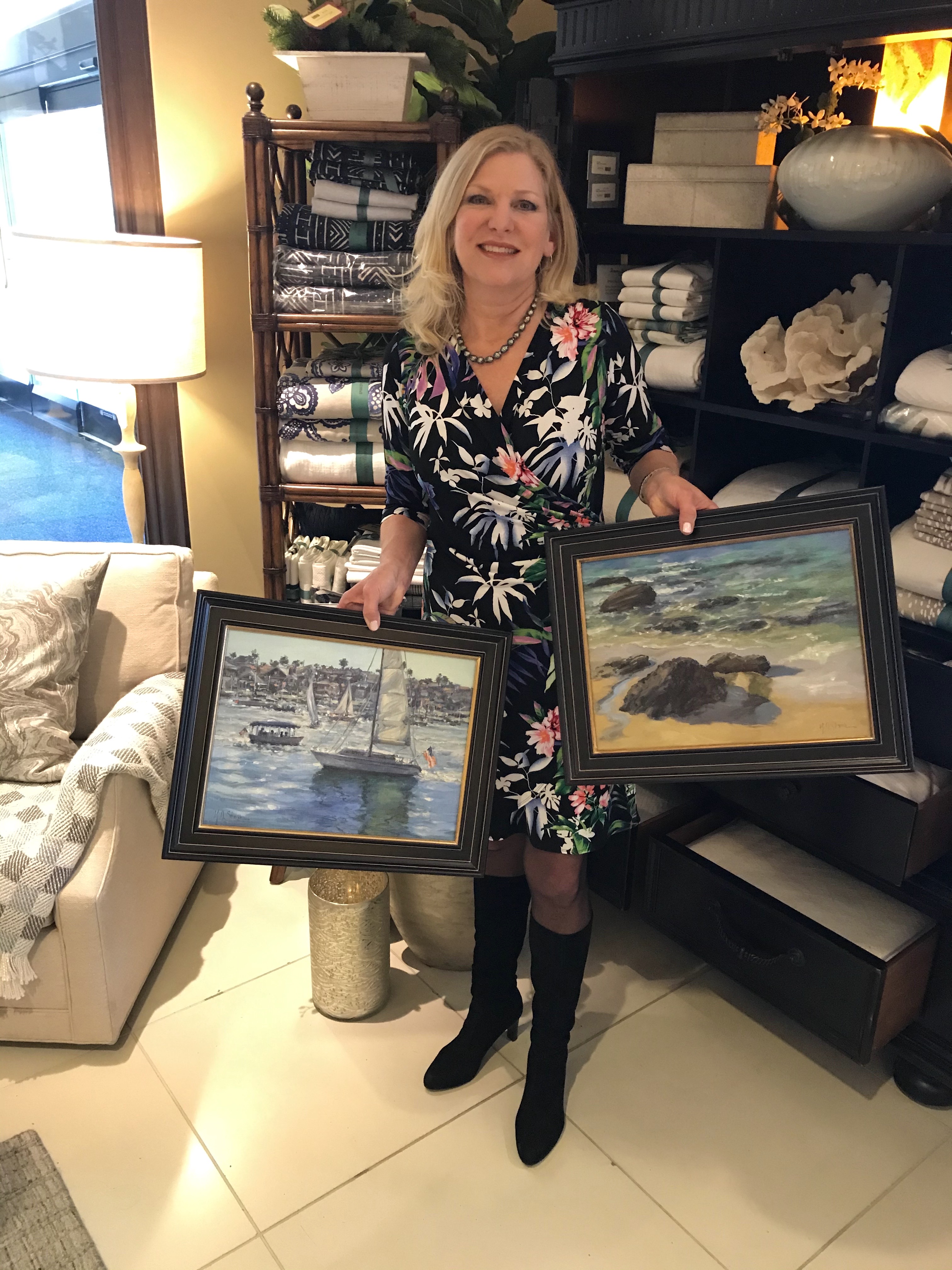 Preview the materials lists for each medium as well as a map of our meeting location
Available in days

days after you enroll

Map and materials lists for oil, water mixable oil, acrylic, watercolor and gouache
Available in days

days after you enroll

Reference photos and notes on painting
Available Online Painting Workshops
Below are a few of the online painting workshops I offer
Check your inbox to confirm your subscription